Why Starting Out Tandem is a Good Idea
DZ News
Posted by: Skydive Key West 12 months ago
It's no surprise that skydiving is a popular "bucket list" item on everyone's mind. Whether this is your first, second, or tenth skydive – tandem jumping is the perfect way to experience skydiving and accomplish the dream of human flight.
Starting out with a tandem is a good idea because it allows you to be free and fully present in the moment so you can truly take it all in. When you're preparing for your tandem skydive, you can take comfort in knowing that you've made a great choice regardless of your own reasons for taking the leap. Here, we will explain why starting out tandem is a good idea – keep reading!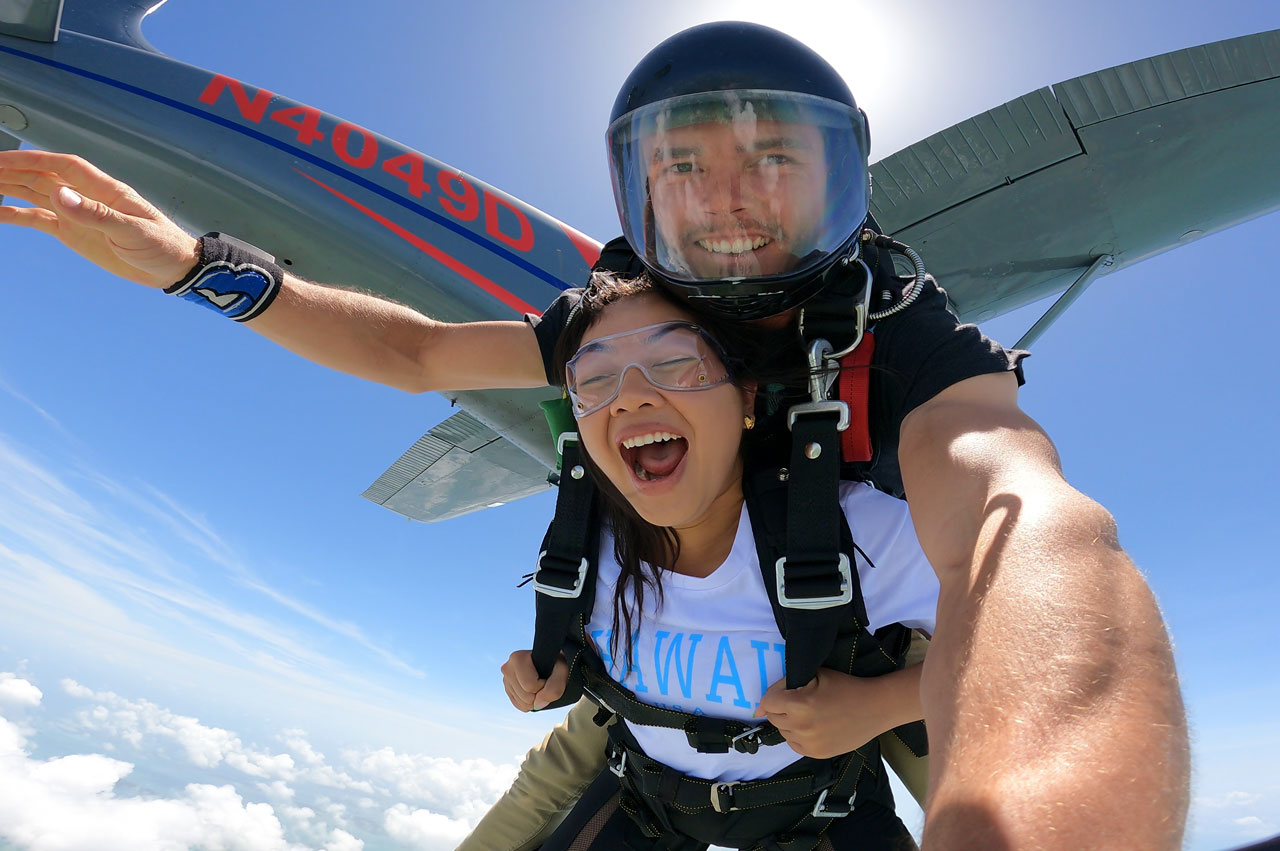 What Is Tandem Skydiving?
Tandem skydiving was invented in the early 1980's as a way to give the general public an opportunity to experience skydiving without the added time and money commitments involved with learning the ropes. Today, tandem skydiving is one of the most popular ways to experience jumping out of a "perfectly good" airplane for your first time.
A tandem skydive is where two people (a student and an instructor) will jump out of the aircraft while securely harnessed together using one parachute rig. On a tandem, you are attached – piggy-back style – to a highly-experienced and credentialed skydiving instructor who will be in charge of all of the technicalities and responsibilities of operating the parachute. You ride in front with your instructor behind you, you know … party in the front, business in the back!
You're In Good Hands!
Just like most extreme sports, newcomers feel more comfortable going along with a licensed professional by their side. Imagine your dream is to feel the power from behind the wheel of a race car, you'd enjoy the experience way more with a seasoned professional at the wheel, right? With skydiving, your tandem instructor is your driver and you get to sit back and enjoy the ride! You can relax and trust that you will be in good hands because you know you're with a knowledgeable and passionate instructor, like those on our team at Skydive Key West!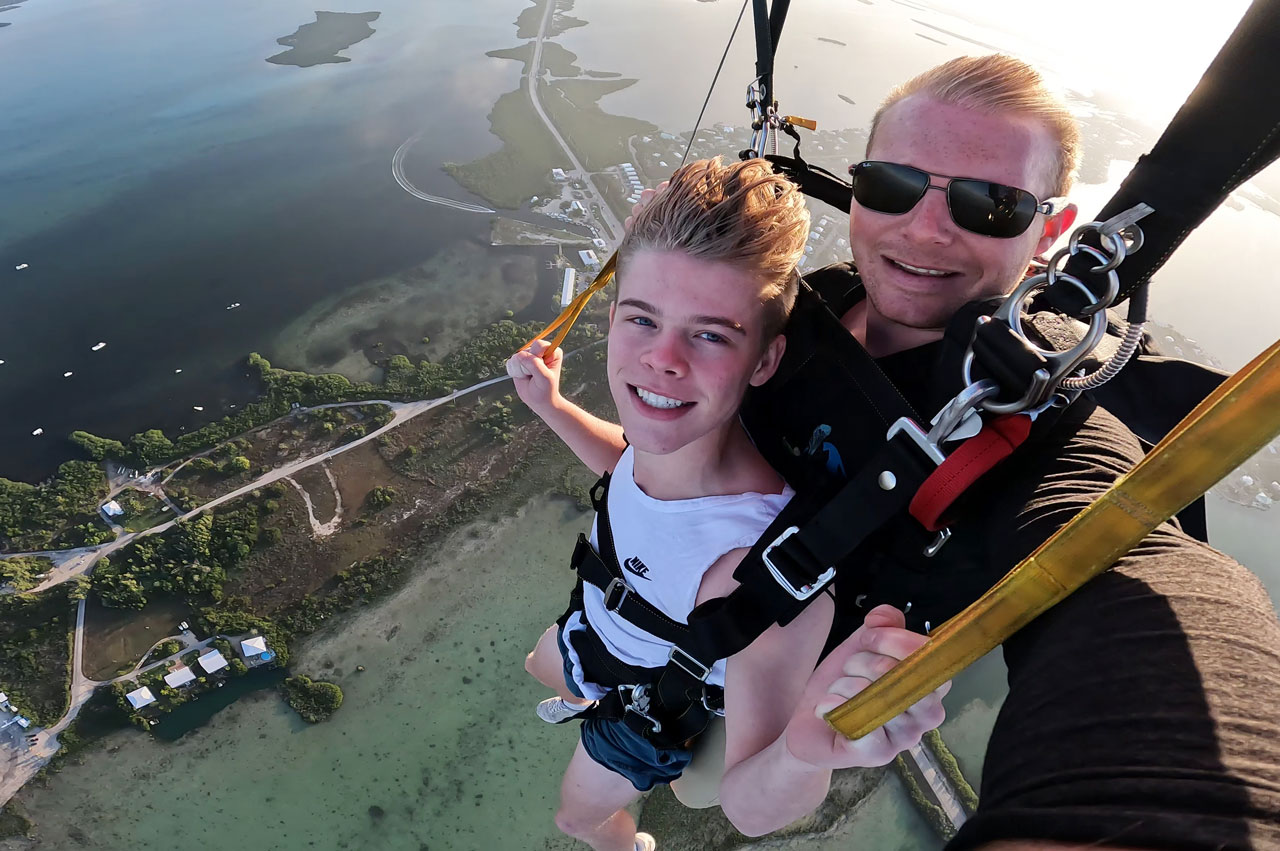 Before a skydiver can train to become a certified instructor under the United States Parachute Association (USPA), they must have at least three years of skydiving experience and a minimum of 500 jumps. Instructors are responsible for operating all of the equipment and guiding you safely through every step of your skydiving experience. Don't fret – you will have a brief class before your skydive that will cover exiting the aircraft, the proper freefall body position, and what you'll need to do for landing. You got this!
THE THRILL WITHOUT THE COMMITMENT
Skydiving at Skydive Key West is really the thrill of a lifetime – jumping from 10,000 feet over paradise while zooming at speeds 120+ mph. It is no wonder why millions of people across the globe skydive every year! Tandem jumping offers that experience without the commitment of going through rigorous training to get your skydiving license.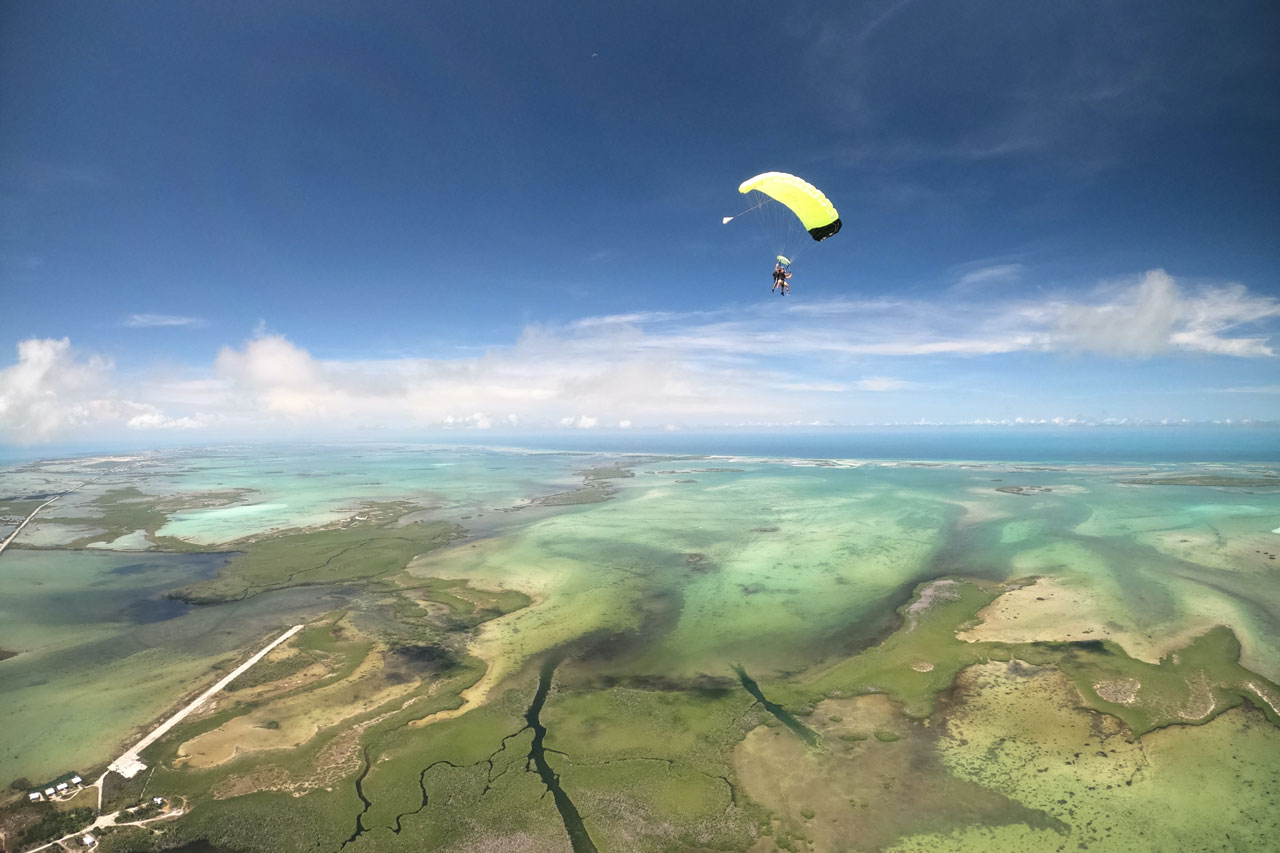 Bonus: jumping at Skydive Key West comes with guaranteed, laid-back "island vibes" and incomparable views of the Atlantic and the Gulf. Our instructor team has logged thousands of jumps, our equipment is top-of-the-line, and we are 100% committed to ensuring that you have a most epic adventure. All you need to do is spread your wings and fly!
STEPPING STONE TO YOUR LICENSE
First time tandem skydiving offers a gateway into the sport to those who are interested in earning their license to jump solo. Some dropzones actually require that you do at least one tandem skydive before going on to earn your skydiving license. The reason for this is because it is an ideal learning tool for getting hands-on experience while receiving one-on-one instruction and focusing on the fun. It gives you space to get a feel for skydiving before taking on the responsibility and commitment of going solo.
In addition, every tandem jump that you log is recognized by the USPA and will count towards the 25 jumps required to get your skydiving A-license, if you choose to pursue it.
Let's get you started on the right path. What are you waiting for? Book your tandem now to soar over paradise with Skydive Key West! Blue skies!