Skydiving For Beginners: What to Expect on the Day of Your Jump
Tandem Skydiving
Posted by: Skydive Key West 2 years ago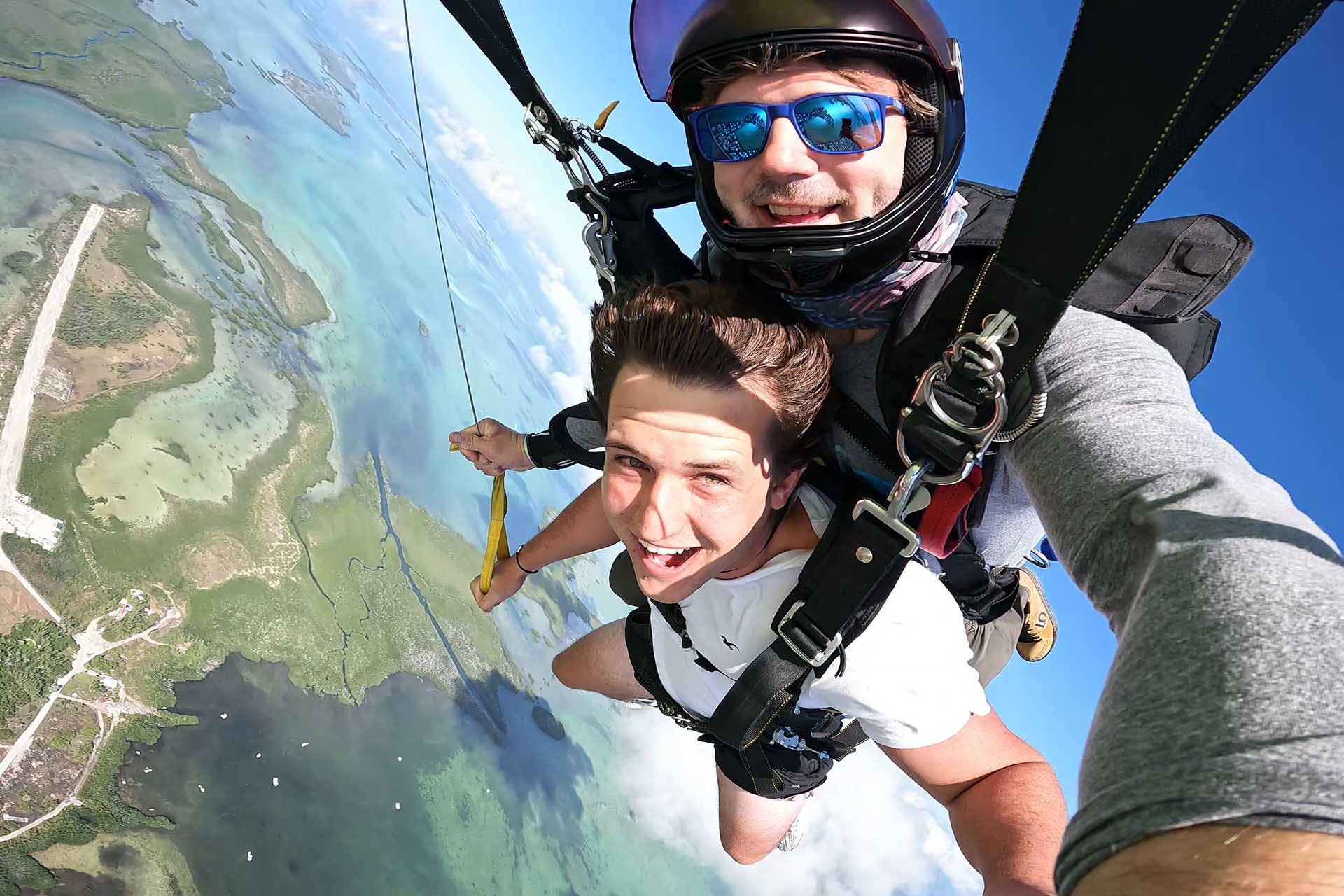 If it's your first time skydiving here in the Florida Keys, we want you to arrive feeling prepared. If it's your first time skydiving ever…you couldn't have picked a more spectacular setting for your first jump! And we want you to feel prepared, too. So here's a master list of all the things to know about the incredible experience awaiting you at Skydive Key West. Whether you're curious about the big things, like what to expect from the jump itself, or the finer details like what to wear, the best time of day to jump, or what happens when there's bad weather, read on. (And don't forget our FAQ page if you've got a question you don't see answered below!)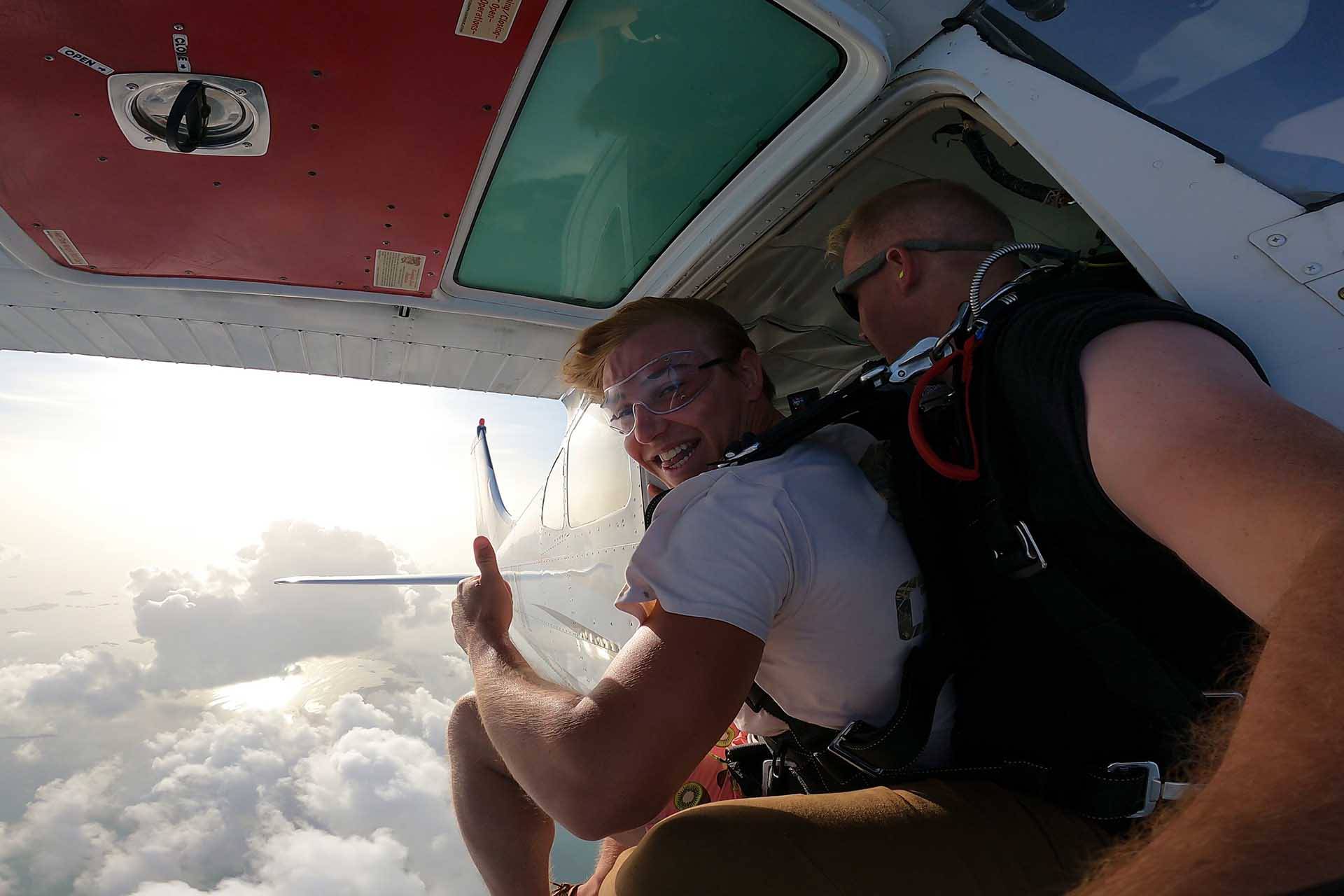 Skydive Key West Experience in a Nutshell: What to Expect from Start to Finish
Key West sky diving is a great adventure, and free falling over the incredible scenery of the Florida Keys is one of the most awesome experiences you will ever have. So naturally, it's very exciting to be heading out to the airfield for a tandem skydive jump and perfectly normal to feel the adrenaline start pumping. You might even have a few butterflies in your stomach whether it's your first jump or not.
That's why you may be surprised to find that everything is calm, routine, and well-structured when you arrive and begin prepping for your jump. Sure, the focus at Skydive Key West is on thrills, excitement, and fun, but safety always comes first and your tandem jump masters are seasoned United States Parachute Association instructors who have logged thousands of jumps. Every member of our staff is here to make sure your experience on the ground gets you ready for your experience in the sky.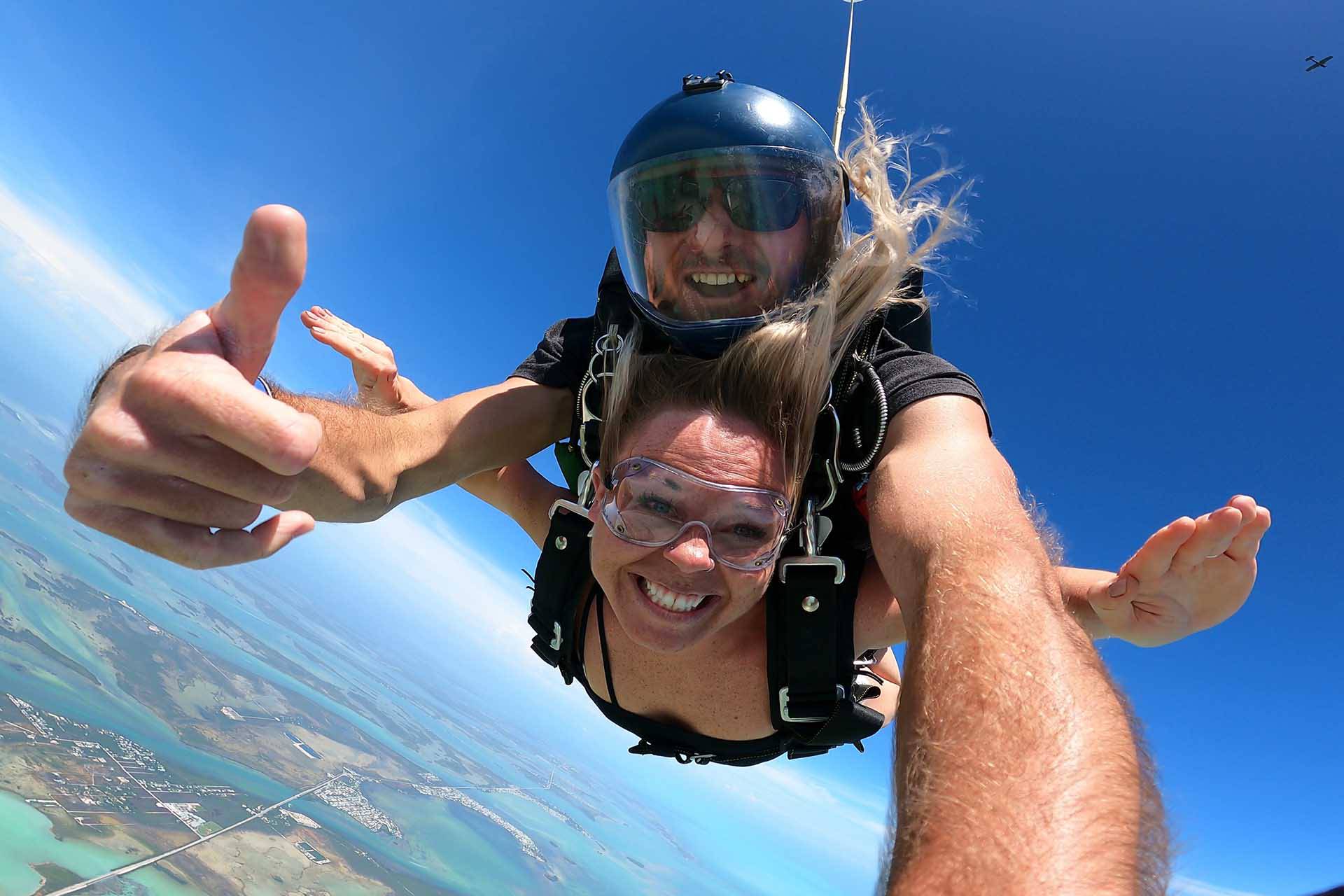 Arrival, Prep, and Training
When you make your reservation you'll receive a text confirmation telling you exactly what time to arrive. It's very important to arrive on time so that we can get you started on some short paperwork and get you registered – you absolutely must have a valid government-issued photo ID that shows your birthdate. Once your paperwork is done we'll get you fitted with your harness and ensure it's comfortable. Then we'll take you through a 15-minute training where you'll learn all the basics you need to have a safe and awesome skydive. Most important thing: keep your eyes open! We'll help you on the rest. 
Less than 30 minutes after you arrive, it'll be time to walk out to the plane!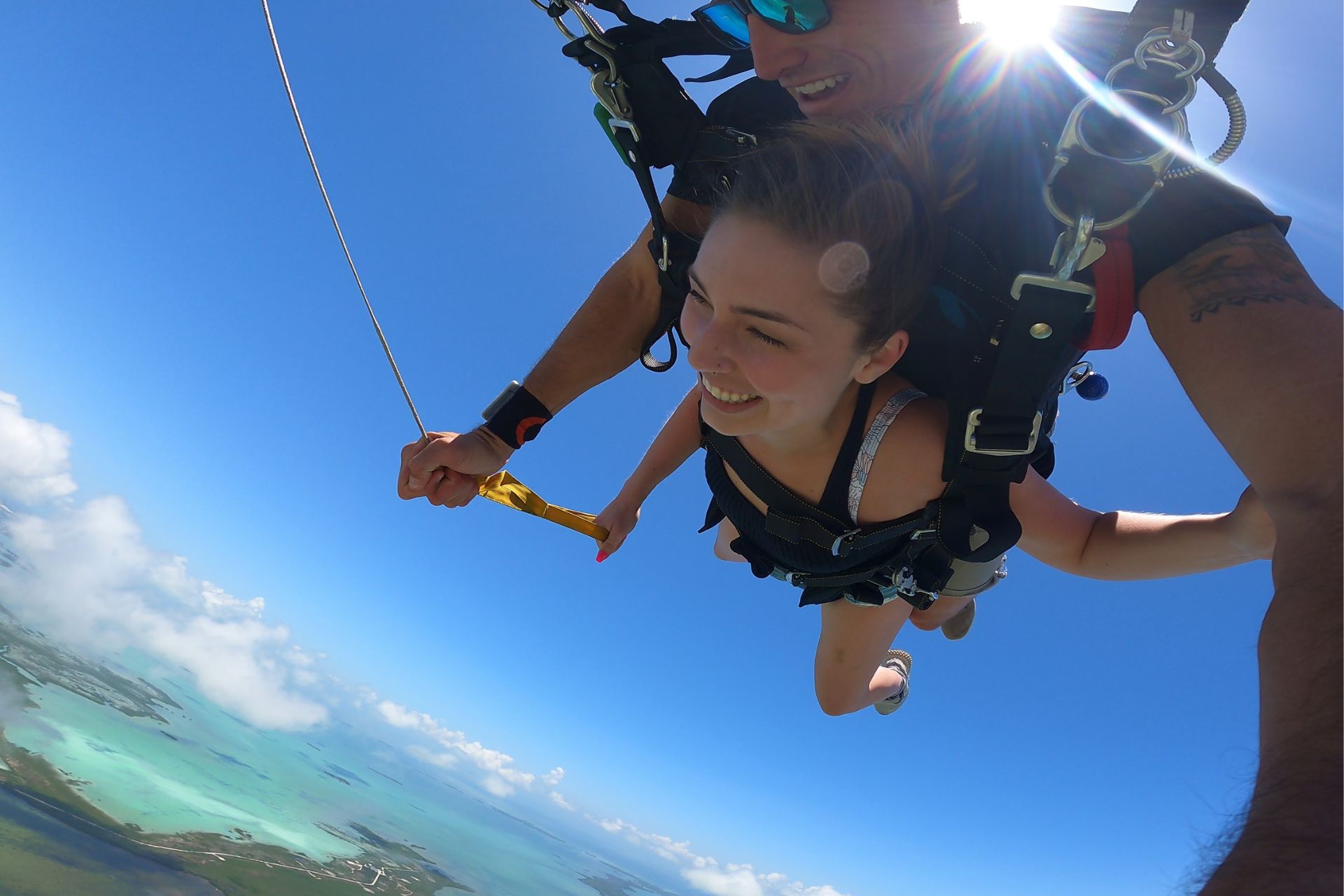 The Jump
Now it's time to board the aircraft for the spectacular climb up to altitude. This is one of the best parts. The view of the islands and turquoise blue waters stretching to the horizon is one you have to see to believe.
15 minutes after take off, it's Go Time! The plane door will open, your instructor will guide you to the doorway, and together you'll jump out into the sky. You'll feel a rush of cool air during the 40 seconds of exhilarating freefall time. When your chute deploys, you begin a silent, peaceful, 5-minute gliding descent above the gorgeous vistas that only the Keys can offer.
The Landing
Landing is easy because your tandem instructor has complete control. You'll feel yourself come to a near-stop in the air, a few feet above the ground, as your instructor flares the parachute and lands you softly on the grass landing area.
Family and friends can meet you at the landing areas to watch your epic return, and there's time for high-fives, hugs, and photos. We'll take you on a 2-minute golf cart ride back to our office where you can watch your video and relive the experience.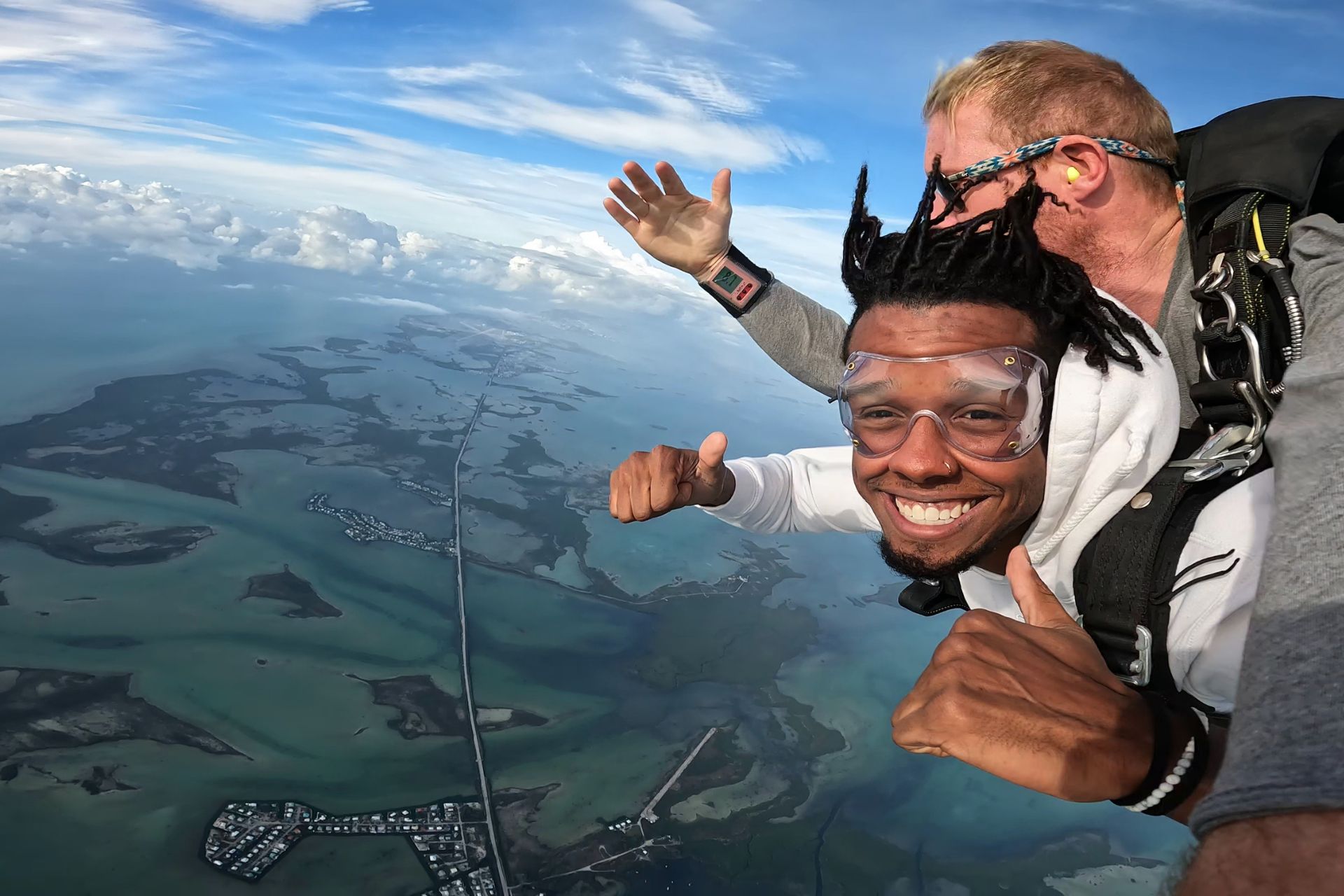 What Should I Wear to Skydive?
There are no special clothes required for skydiving. The most important thing is to wear clothes that you're comfortable in, same as you would wear if you were heading outside for a walk. Sandals, flip-flops, and slip-ons can easily blow off during free fall, so we do require that you wear closed-toed shoes. If you don't have any with you (you're on an island, after all) that's no problem. We're happy to lend you a pair for your jump!
Can I Wear my Jewelry?
Jewelry – including necklaces, bracelets, and rings – can easily blow off, or get caught in your harness and cause a significant injury. There's nothing more heartbreaking than seeing a piece of jewelry that has sentimental value disappear into the water hundreds of feet below us. So we'll ask you to remove any jewelry before you get in the plane, and we provide lockers right on site so you can retrieve your valuables as soon as you land.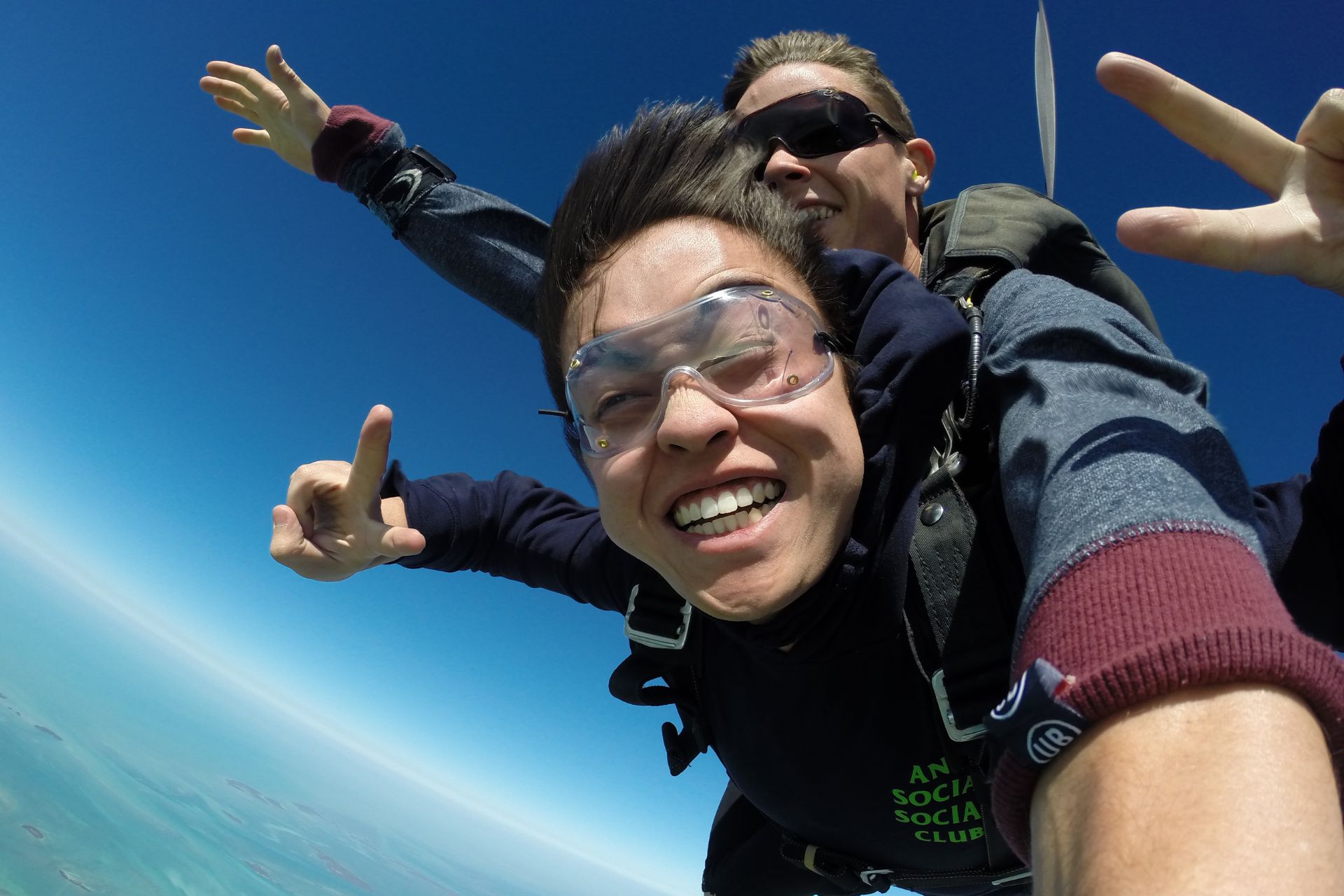 Okay, No Jewelry – but What About My Glasses?
You'll have to remove your sunglasses before jumping to ensure they don't blow away the moment you exit the plane (trust us – there is no avoiding it). We'll keep them in a locker for you so you can get them as soon as you land. If you wear prescription glasses and have trouble seeing without them, we don't want you to miss out on the epic views. We'll provide specialty goggles that fit over your prescription glasses, so you'll be able to wear them during your jump.
I've Got Long Hair – What Should I Do?
Some of us do, too – and we recommend you tie it back securely. Mostly this ensures that your hair doesn't blow in your face during your jump and block your view!
Can I Bring My Phone Or Go Pro to Take Pictures?
All phones and cameras have to stay on the ground for safety reasons. They become dangerous flying projectiles when they fall out of your pocket or blow out of your hand, and it's just too depressing to watch a brand-new phone disappear into the waters far below. But don't worry – your instructor has a Go Pro and will get a great video and 50+ photos of your jump!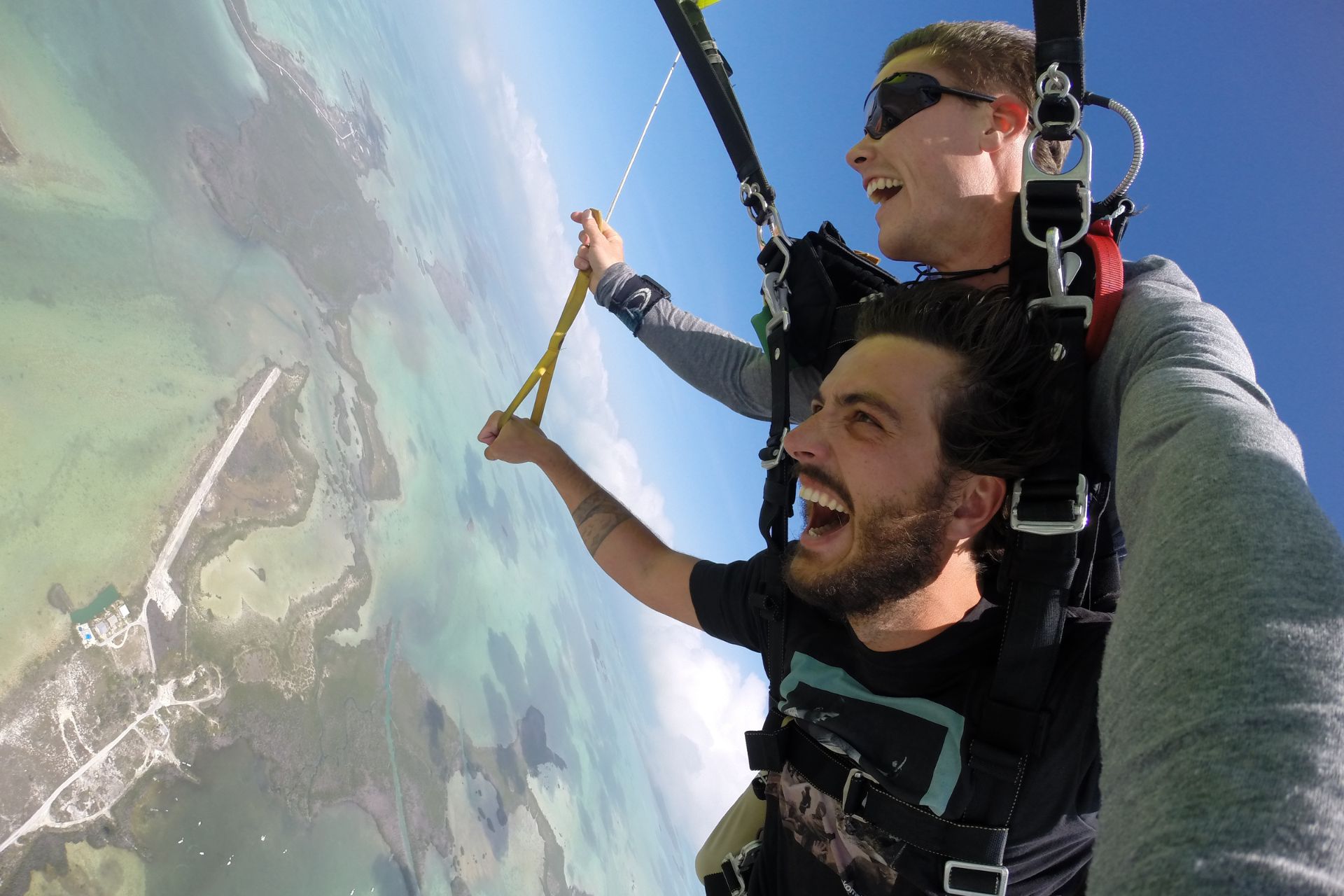 What's the Best Time of Day to Jump?
We get this question a lot, and there's only one answer: it's always best to jump at the time of day that's most convenient for you. From the time the sun is up until it starts to set, the views are absolutely beautiful. We tend to avoid sunset jumps because the water appears dark and jumpers miss all of the beautiful detail the landscape has to offer in the daylight. We do not do night jumps.
What if the Weather Is Bad?
Skydiving is an outdoor, weather-dependent sport, and there are times when windy or rainy conditions make it unsafe to jump. We're lucky that the weather in the Florida Keys is often sunny and beautiful, but storms do occasionally move through. If the weather conditions look like they will prevent us from skydiving safely, we will always contact you as soon as we make the decision to postpone. More often than not, weather systems move through this area quickly and we can start jumping again after a slight delay. We'll always work with you to help you reschedule for an alternate time that's convenient for you. We do advise that you call us if you're driving from a significant distance and the weather is bad – we always want to save you a long drive if we can and reschedule you for an alternate day.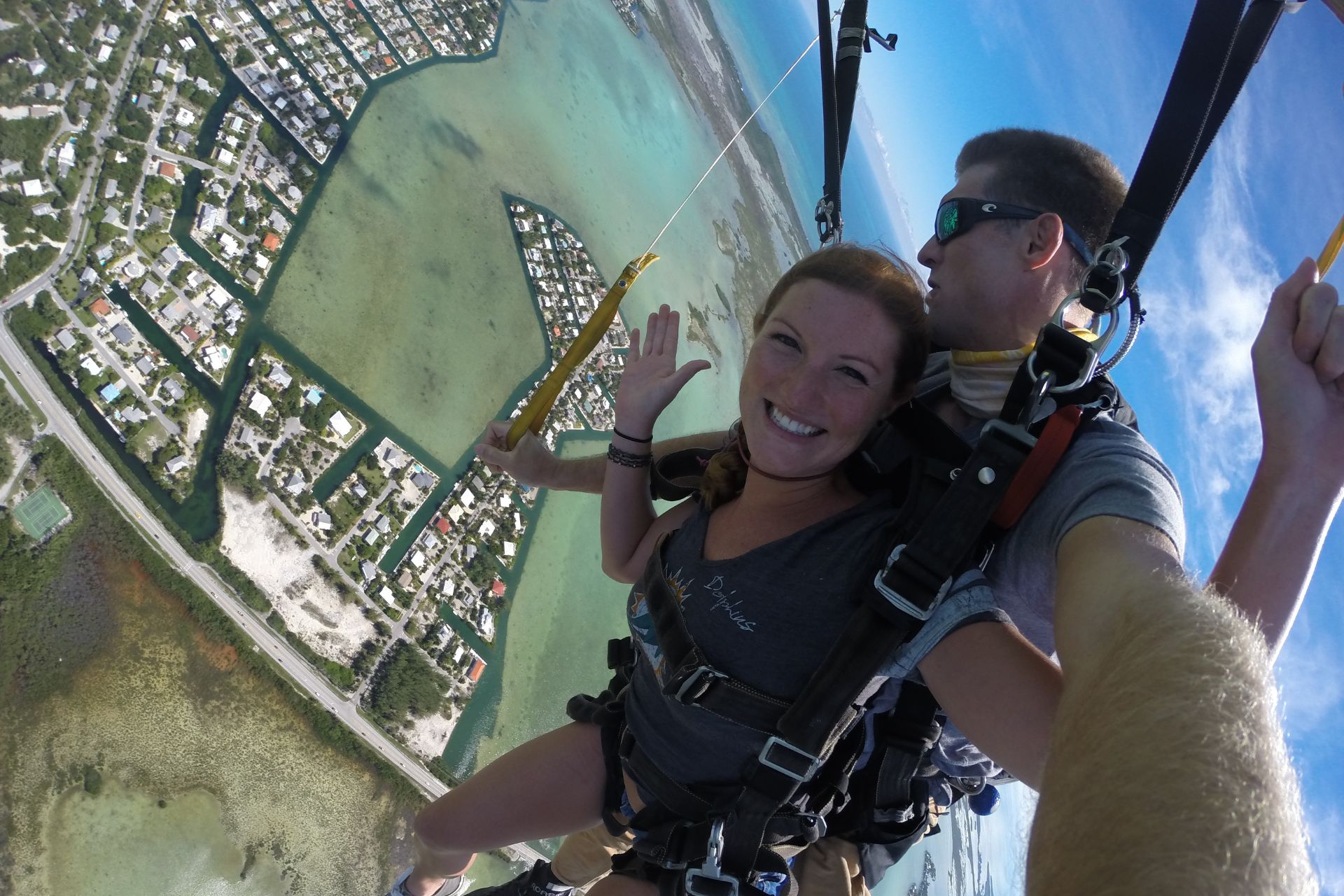 What if I Still Have Questions About My Jump?
We're standing by with answers and would love to talk to you! Please reach out to us at 305-396-8806 or email [email protected].
What If I'm Ready to Book?!?
We're psyched to take you skydiving – let's do this! Please call 305-396-8806 or email [email protected] to set up your jump.