Tandem Skydiving
A bird's eye view of your skydive
The Thrill of a Lifetime in One of the Most Beautiful Settings on Earth
Skydiving is a truly life-changing experience, and you've picked one of the most spectacular places on the planet to do it! Skydive Key West is the premier destination for tandem skydiving South Florida and the Florida Keys.
Tandem skydiving means you'll be attached to one of our certified instructors with a special harness and parachute system designed for two for the entirety of your skydive – in the plane and in the sky, until you're both safely on the ground. A tandem skydive is the ideal way to experience the thrill of skydiving for the first time.
From the moment you enter our doors, you'll see why we're consistently rated one of the top 10 places in the world to skydive. Each member of our super-friendly, highly-trained, safety-obsessed staff is here to make sure your skydiving adventure is the best you'll find anywhere. And unlike other skydiving centers, there's no waiting – you'll be in the plane and enjoying a gorgeous view of the Keys within 30 minutes after arriving for your reservation. Here's what to expect from start to finish: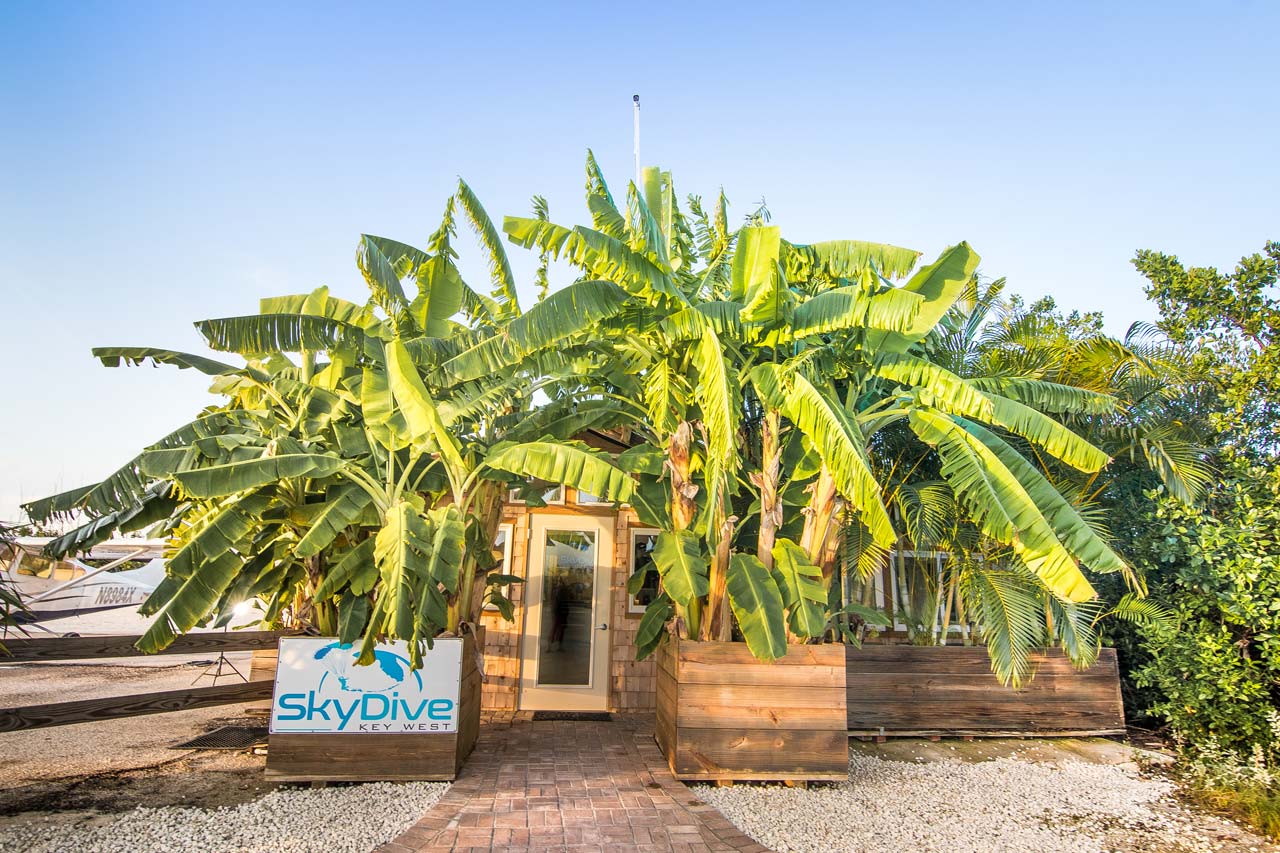 Arrival and training: 30 minutes
When you arrive we'll make a copy of your photo ID, process your payment, and ask you to sign a waiver. We'll introduce you to your instructor who'll be taking you for your skydive and we'll get you into your harness. If your adrenaline wasn't flowing already, this is probably when it'll start! Next, we'll take you through a training and safety briefing so you know exactly what to expect from your skydive. Don't worry if you're feeling too amped up to remember everything, your instructor can remind you of the details when you're in the plane together. Speaking of the plane – it's time to walk out to the runway and get this skydive started!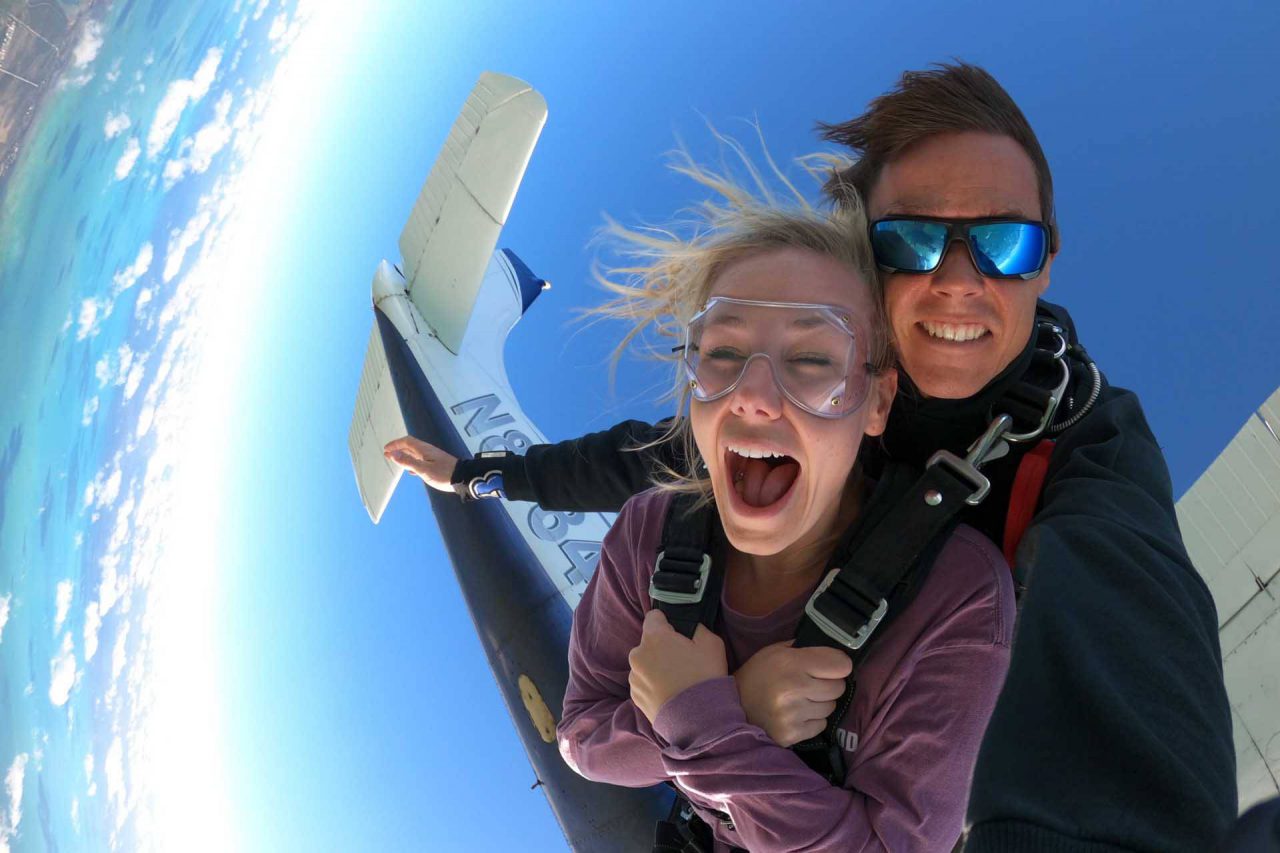 Flight: 15 minutes
Your flight up to our jumping altitude of 10,000 feet is a 15-minute sightseeing tour of the beautiful Florida Keys, and a preview of the amazing views you'll experience during your skydive. Keep your eyes peeled for spotted eagle rays, dolphins, and sharks swimming in the shimmering turquoise water below. At the end of the flight, something will happen that will make it obvious it's a skydive: the plane door will open and you'll be ready to jump!
Freefall: 40 seconds
Once you leave the plane, there are 40 exhilarating seconds of freefall. Because of the wind resistance, the sensation of freefall feels more like flying than falling and it is intensely exciting and liberating. There's no other feeling quite like it.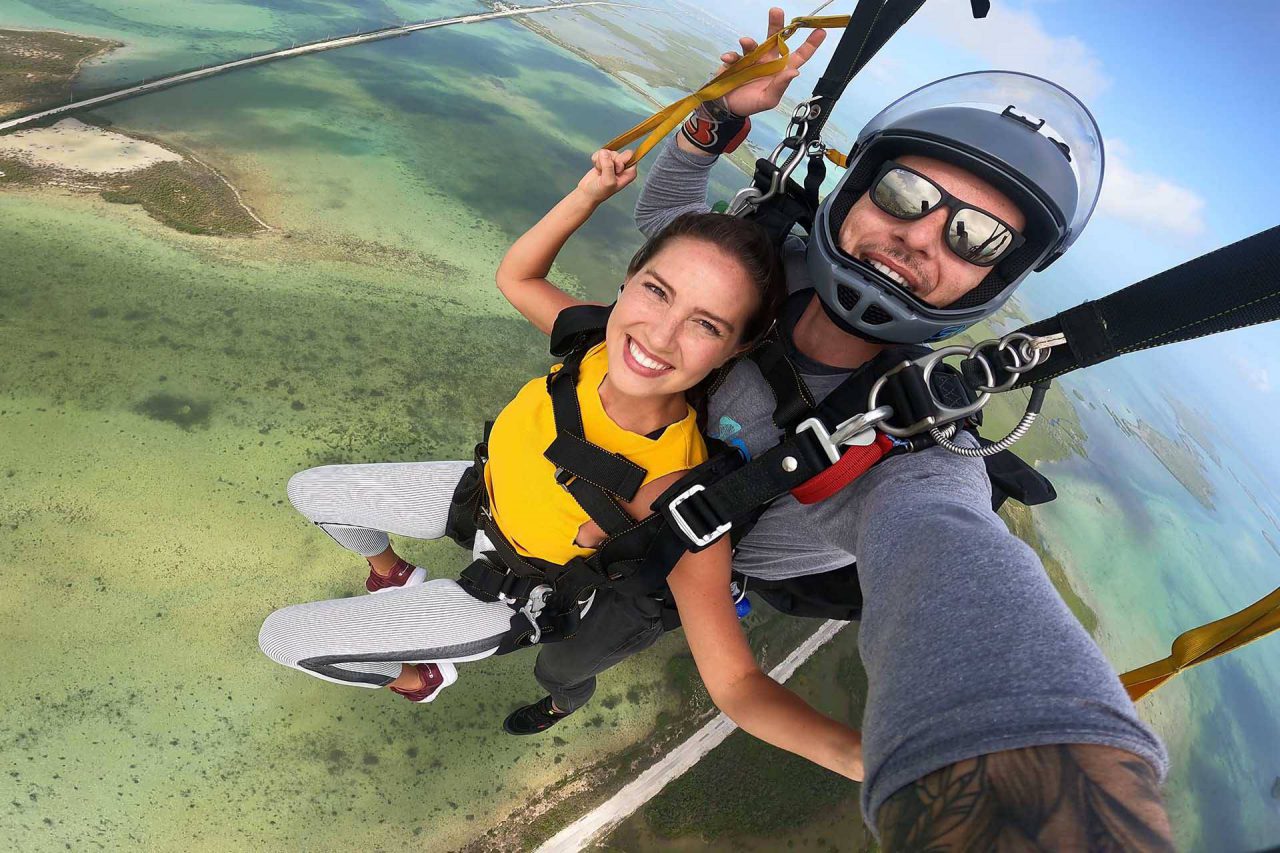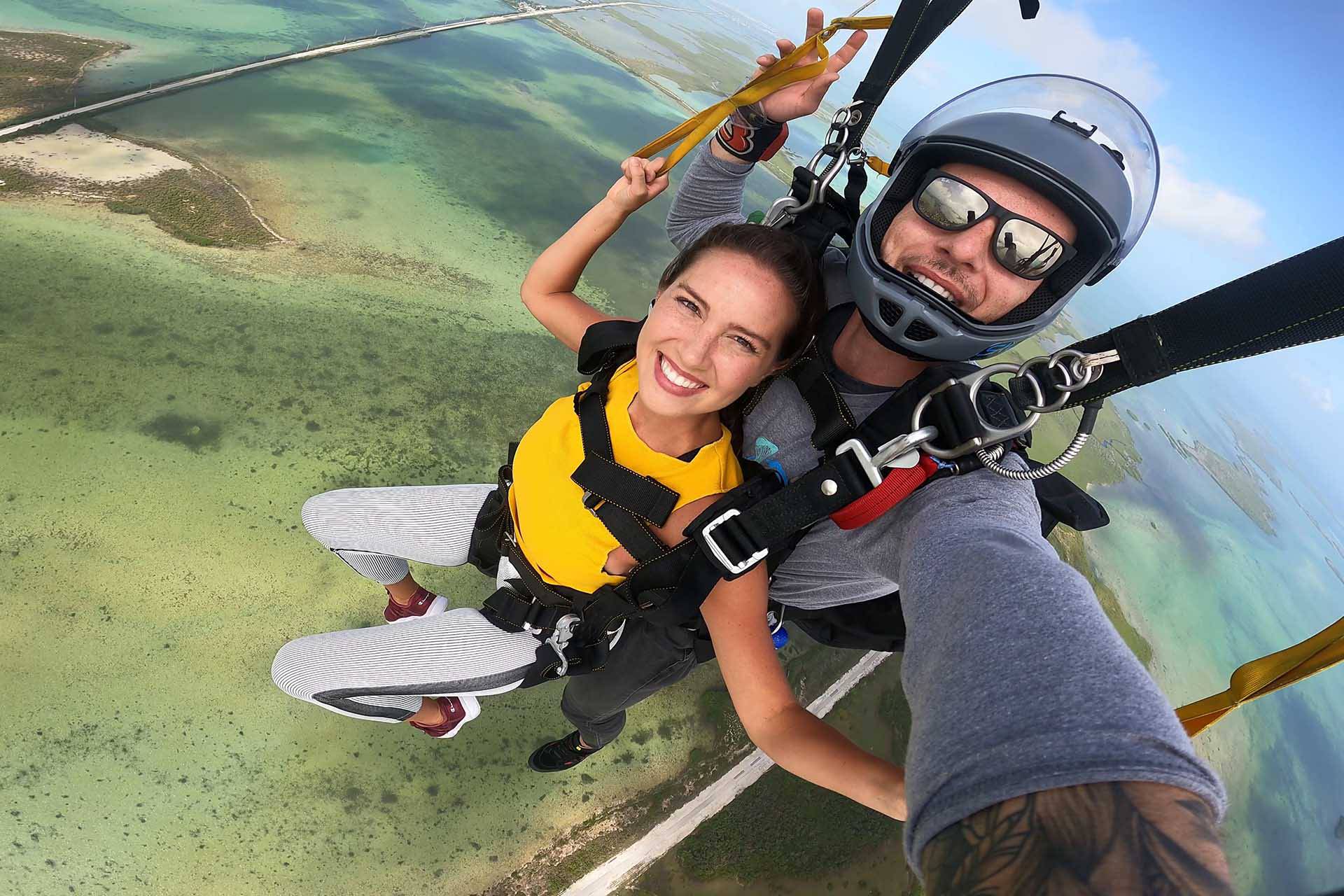 Canopy Ride: 5 minutes
After 40 seconds of freefall the parachute will open, and the intense rush transforms into a peaceful and relaxing descent that takes about 5 minutes. Your canopy ride is a perfect opportunity to take in the spectacular views all around you: the entirety of Highway 1 that connects all of the Florida Keys to the mainland, the dense forests of the Everglades, the famous 7-Mile Bridge, and the world's third largest coral reef. It's a one-of-a-kind view that people come from all over the world to see.
Landing
When you're in the final moments of your descent, your instructor will tell you to lift up your legs to get ready for a gentle stand-up landing. Under certain conditions and at the discretion of your instructor, some people will make a gentle sit-down landing.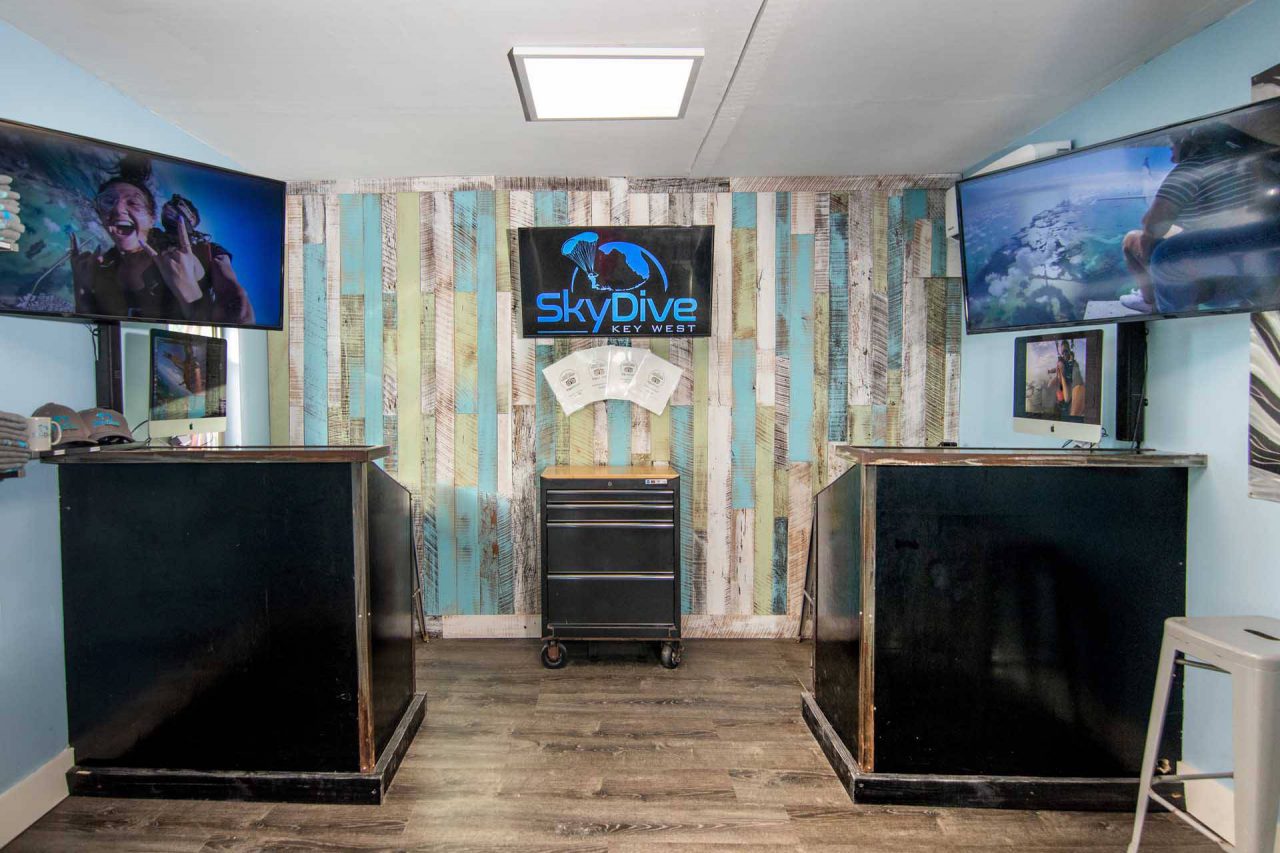 Photo and Video Viewing: 10 minutes
After a quick golf cart ride from the landing area, you'll be back inside and ready to watch the video of your jump on the big screen if you choose! If you purchase your video and photos, we'll put them right on your phone for you.
You're Done!
Come back and see us again soon.