What Are The Best Shoes for Skydiving?
Skydiving
Posted by: Skydive Key West 4 months ago
If you're preparing for your first time skydiving – make sure to think about your footwear!
Shoes for skydiving have two main criteria: comfort and functionality. Skydiving shoes serve a variety of purposes, from protecting your feet to running out spicy landings – they've really got you covered. When choosing skydiving shoes for the day of your jump, go for closed toed, laced, and unrestrictive options. Let's jump into why!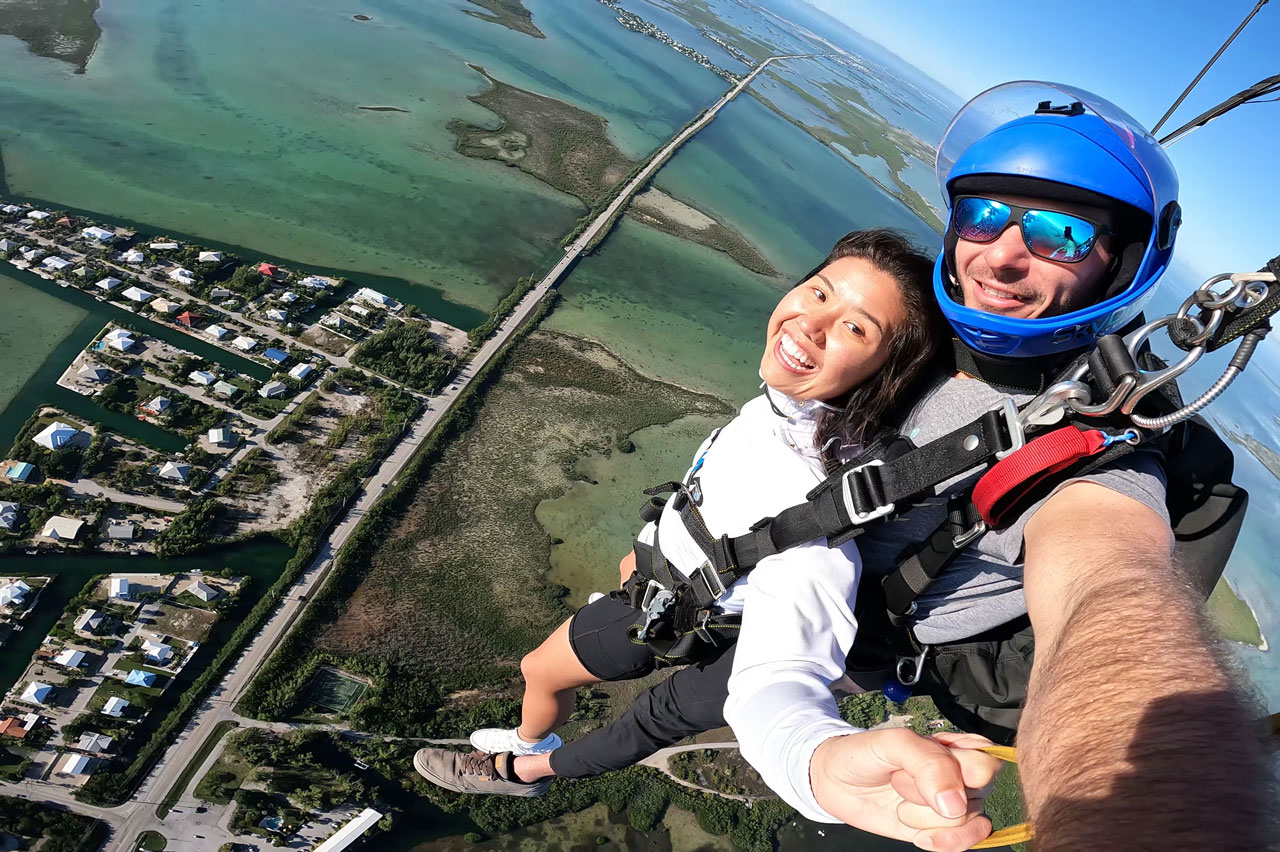 Why are skydiving shoes so important?
What shoes to wear for skydiving is a critical decision to make to have a fun skydive – the only thing we want left in the sky is all your fear, not any of your footwear. Skydiving is an extreme sport and we need to dress appropriately for it, from the way our hair is done to how tight our shoelaces are tied.
Shoes act to protect our feet for the entirety of the skydive, from boarding the jump plane to swooping in for landing. Whether it's getting dirt under our toenails or actually enduring an unwanted snag (ouch!) shoes are a necessity for a safe and fun jump.
Skydiving Shoes Should Be Closed Toed
If you were planning to make your first jump in Chacos, Birks, or Rainbows, we hate to let you down, but skydiving shoes must be closed toed. The skydiving process has two parts that pose danger to your little piggies: the plane ride to altitude and the landing. While jump planes are our favorite type of plane, they're not designed for comfort, and we're all packed in there pretty snugly.
It presents a great time to really get up close and personal with your instructor and other skydivers, and is more than doable for the time it takes to get to altitude (only a short 15 minutes!). That being said, the plane ride might result in people accidentally sitting on your feet or bumping into you. Upon exit, you may hit your foot on the door of the plane, which is a biggg ouchie without shoes, but really nothing to worry about when wearing shoes.
Don't Forget Functioning Laces
We recommend that your shoes have functioning laces. Shoes being laced just adds that extra layer of security! Slip-on sneakers are much more likely to fly off into the abyss of the sky never to be seen again – lost somewhere over the Keys! Can you imagine enjoying a lovely afternoon sailing and suddenly getting pelted in the face with a rogue shoe!? And, you know, velcro shoes aren't nearly as cool (sorry dads). 
Licensed skydivers wearing shoes with laces actually make it a part of their gear check on every jump to make sure that their laces are nicely tied and double knotted (of course) … yes, they're that important! In fact, here's a pro-tip: check to make sure your laces are double knotted, too. The wind in freefall can really do some unlacing – quickly!
Choose Comfort Over Style
Only wear shoes that you're comfortable in. Skydiving for the first time is already nerve wrecking enough, we don't want you worrying about your feet aching or having a new blister! If you're accustomed to wearing your old and ugly tennis shoes then go for it, we don't care!!
Today is not the day to try something new, other than jumping from a plane! Plus, comfort = confidence. We want you to show up as your most authentic self and feel your best on the day of your jump.
Can I skydive barefoot?
Nooo. Skydiving shoe-less is generally not recommended and can only be done by licensed skydivers. Some of the gnarliest injuries that can occur on landing happen to the foot and ankle area; even licensed jumpers choose not to risk it (but the occasional barefoot beach landing is fun)!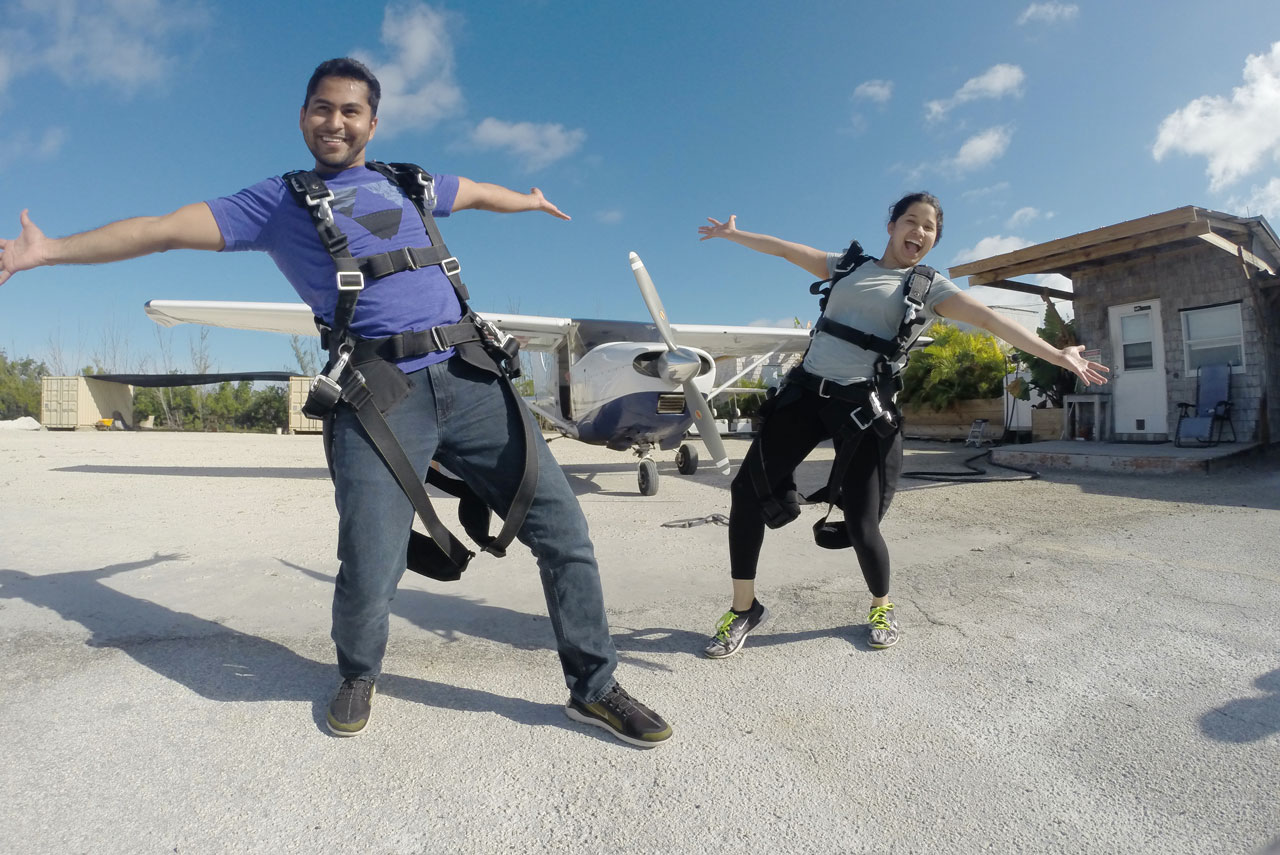 The best shoes
Just because you're choosing comfort and functionality doesn't mean you can't rock some stylish kicks as well (as long as they meet our other criteria). If you're staring in your closet trying to decide, we've got some recommendations for you.
Some of our top picks for shoes to skydive in include:
Tennis shoes or sneakers
Vans
Converse
Skate shoes
All these options meet our criteria AND some (looking at you skate shoes) even provide a little extra foot-padding. Win-win!
The worst shoes
Just to make sure we're crystal clear, there are some shoe options that you should NOT consider donning on the day of you dive. There is a long list of shoes that are not airworthy, but our top five of shoes to avoid include:
Sandals (including flip flops)
Cowboy boots
High heels 
Shoes with hooks for laces instead of holes (snag hazard!)
No shoes 
Just remember, skydiving is an outdoor activity. You will be landing on grass! Which (as we know) could lead to grass stains. Steer clear of any type of shoe that would cause you despair if it were a bit … dirtied.
There's no boot scootin' in skydiving, only boogiein'! If you have any questions about your freefall footwear, feel free to reach out! Blue skies!