Tips to Improve Your Skydiving Experience
Skydiving
Posted by: Skydive Key West 5 months ago
You only do your first tandem skydive ONCE so why not come prepared and do it right! We want what you want – an unforgettable and awe-inspiring experience.
Contrary to popular belief, you are not just a passenger on this journey – you are actually considered a student! This means that you will play an active role during your tandem skydive and there are a few things we'll need your help with to ensure a smooth-sailin' adventure.
Come along – we're going to share some handy-dandy what to know before skydiving tips. First, let's go over some dos and don'ts of skydiving!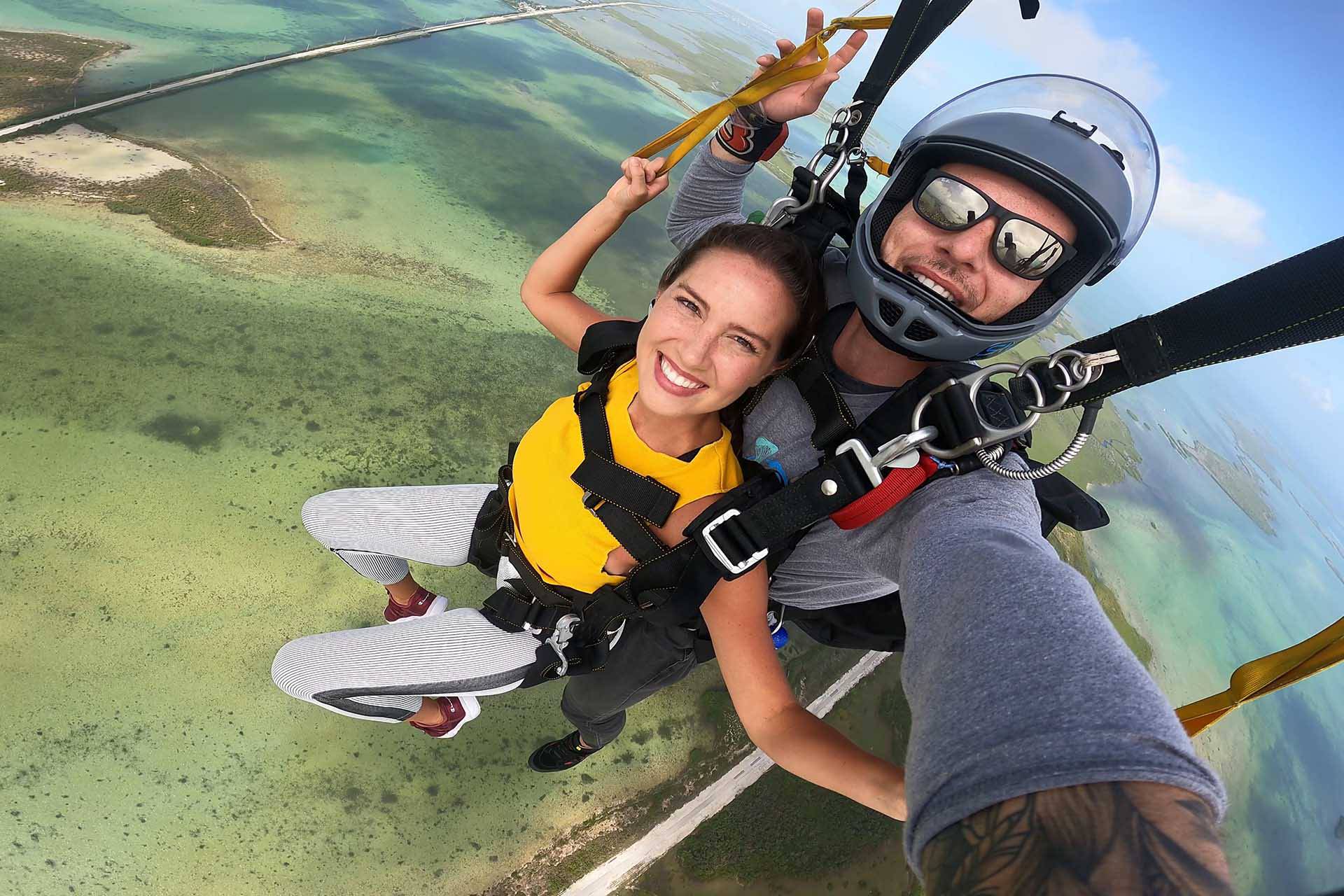 Dos and Don'ts of Skydiving
You know the old adage, help me help you!? Following these tips on skydiving will make your experience all the better and will make it easy peasy for your instructor to guide you throughout your best day ever! Here's a high-level checklist to get you started, with full how-tos below!
DO:
Come prepared
Get plenty of rest
Pull the trigger on getting the video (it's 100% worth it!)
RELAX!
DON'T:
Don't eat too much, or too little
Don't drink alcohol or use any other substances
Don't fall into peer pressure
Pro Tip #1: Book Your Jump
Nothing is more devastating than finally working up the courage to go skydiving only to find out the dropzone is all booked up and there isn't enough time to make your skydive that day. Boo! This is why we recommend making a reservation (especially during peak season), even if it is for later that same day! It's only $1/person to make a reservation for a tandem skydive with us at Skydive Key West. Don't worry – you can reschedule if it ends up not working out!
Pro Tip #2: Come Prepared
We can't stress this enough – do your research before your skydive! Check out our blog for a great article that'll help you get prepped and ready to make your first skydive. You'll learn a whole lot of helpful info, including:
Pre-jump training
Stages of a tandem skydive
What to wear on jump day
How to wear your hair skydiving
What to do if you wear glasses
What to do if the weather's bad
Pro Tip #3: Take Care of You
Skydiving is a sport and skydivers are athletes. Just as a professional athlete is responsible for taking care of themselves before a big game, we hold ourselves to the same standard.
Your brain is about to go into hyperdrive from all of the stimuli coming at you at once – especially your adrenaline. Your body needs nourishment and rest to be able to properly handle the thrill. Here's what you can do to prep your body for skydiving:
Get a good night's sleep
Stay hydrated (bring water with you)
Eat as you would normally (pack snacks)
Snooze on the booze (skydiving with a hangover is not fun)
Pro Tip #4: Get the Video!
We hear it all the time, first time jumpers' biggest regret is not getting any photos or video of their skydive – so be sure to add on a photo or video package! Having a video of your first time skydiving enables you to share one of your greatest life experiences with your friends and family, and allows you to relive the moment over and over (and over!) again.
Plus, if you go into your first skydive knowing that someone else will be taking pictures and videos of your experience, you'll be more likely to relax and allow yourself to be fully present in the moment. Which brings us to our next pro tip!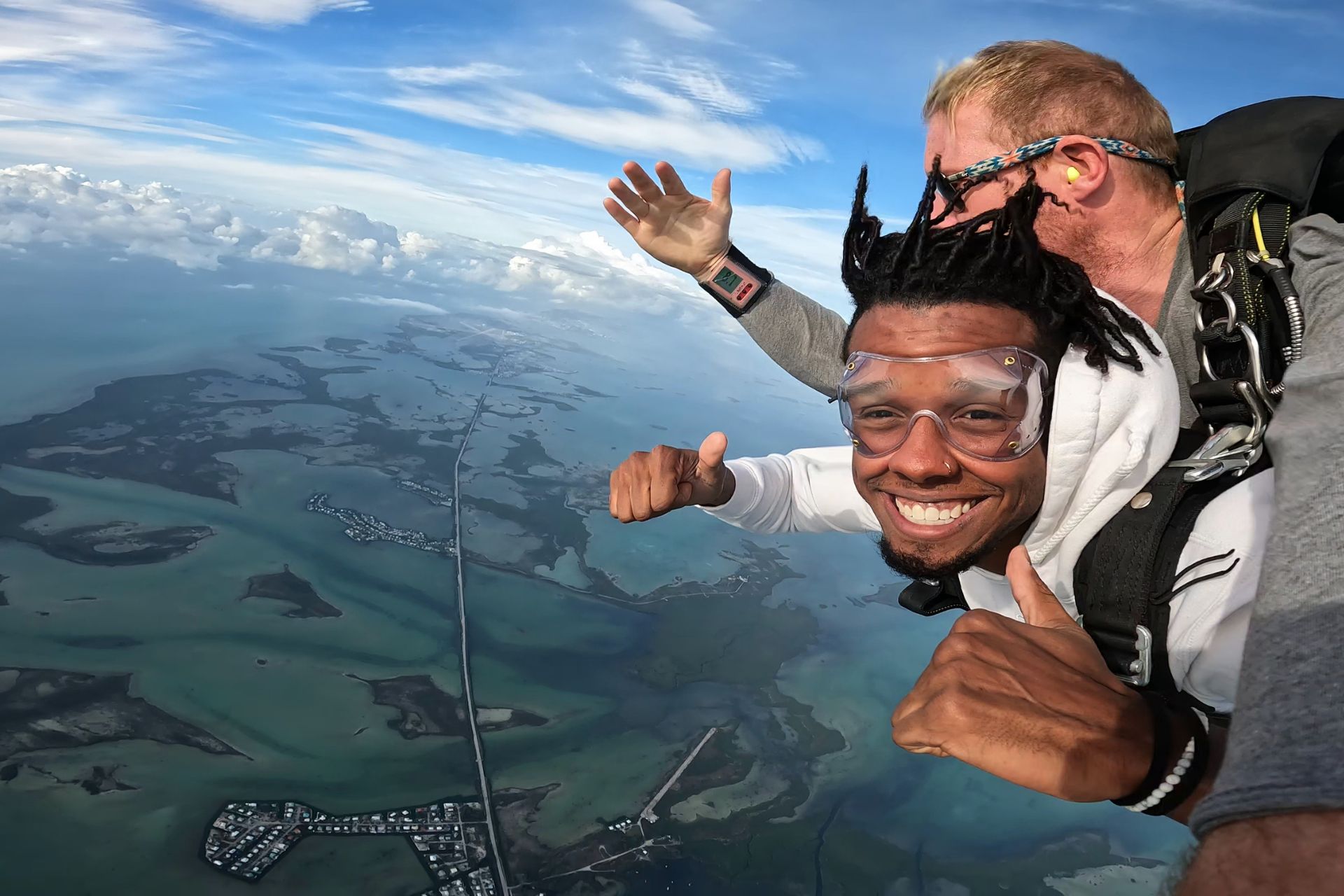 Pro Tip #5: Be Fully Present
"Relax!" These are the words you will hear from people all over the dropzone – and really, it's the best of all of the tips on skydiving we can give! Easier said than done, right? We know … but try your best to cast your worries to the wind and fully embrace the experience. Really take it ALL in. For many first timers, jump day represents their first time at an actual skydiving dropzone – or even an airport for that matter! Own your decision. Spread your wings! Wallow in the moment and be fully present! Relax, friend! You've got this! *shaka emoji*
Now you know what to do – it's time to do it! Book your reservation with Skydive Key West – one of the most beautiful dropzones in the world! Blue skies!