What To Expect The Day Of Your Skydive
Skydiving
Posted by: Skydive Key West 5 months ago
If it's your first time skydiving at Skydive Key West, you probably want to know all there is to know in order to prepare for your first time skydiving experience. So let's go over a play by play on the entire skydiving process and what to expect when skydiving for the first time!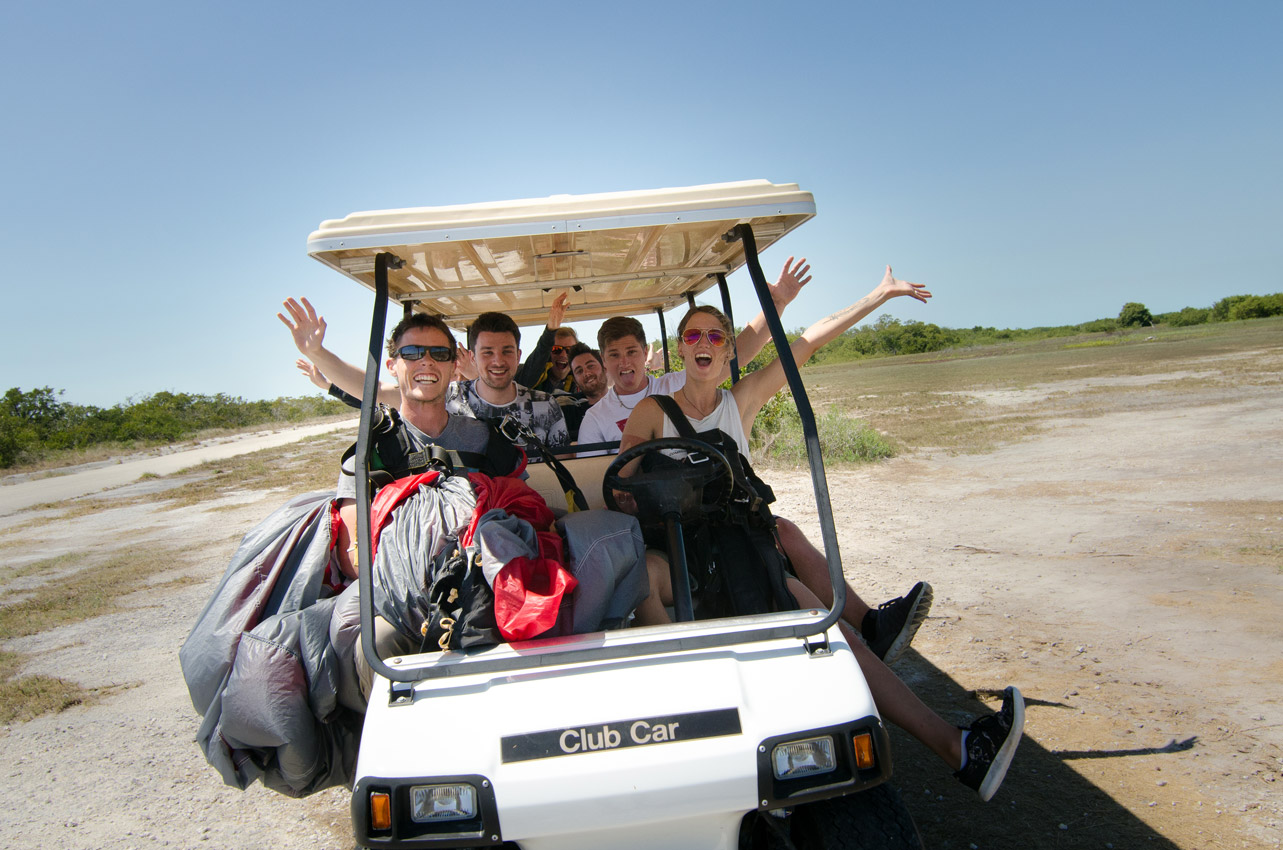 How Long Does It Take To Skydive?
At Skydive Key West, you won't be waiting long! We pride ourselves on efficiency and our always-on-time culture. The entire process from start to finish can take anywhere from 1 hour to 2 hours depending on the size of your group. 
Groups of 2 should anticipate being here for one hour, while groups of 12 or less should expect to be here for 2 hours.
The Skydiving Experience: What to Expect When Skydiving
You may be surprised to find out that skydivers aren't just a bunch of adrenaline junkies who walk to the beat of their own drum. Our instructors are credentialed professionals and our dropzone operates on a pretty strict schedule. Sure, we like to have fun, but safety and efficiency always comes first! There is a thoughtfully designed series of events you'll follow from the moment you arrive at the dropzone.
Arrival & Check-In
At Skydive Key West, your skydiving reservation time is your arrival time. It's extremely important to arrive on time or, better yet, early so we can get the check-in process rolling. You will be required to fill out some paperwork before your jump. Be sure to bring a valid, government-issued photo ID (passport, drivers license, etc.) with your birthdate on it!
Gearing Up & Ground Training
Next, you will meet your tandem instructor who will jump with you on your tandem skydive! Your instructor will get you harnessed up and take you through a safety and training briefing that will cover everything you should expect on your skydiving journey. Don't worry, your instructor will remind you of everything you need to know along the way.
The entire check-in/training process takes about 30 minutes.
The Airplane Ride to Altitude: 15 Minutes
When your instructor says it is time, you will board the aircraft together. This is the moment where everything starts to get really real! But don't worry – they will be there to guide you the whole way through.
Your flight up to 10,000 feet is about a 15-minute sightseeing tour of the beautiful Florida Keys! This gives you a sneak-peek into what you'll get to experience from an unobstructed viewpoint while on your epic skydive once you exit the plane. 
Exiting the Aircraft
When you arrive at your destination in the sky, the plane door will open. It's time to jump! Your instructor will guide you through the process and coach you on what you'll need to do next. Take a deep breath and try to relax!
Free, Freefallin'!
You're doing it! The moment you've been waiting for has finally come to fruition. You'll experience about 40 seconds of freefall from the time you jump out of the plane to the time your instructor deploys the parachute.
Freefall feels more like floating on air rather than falling towards the ground – thanks to terminal velocity!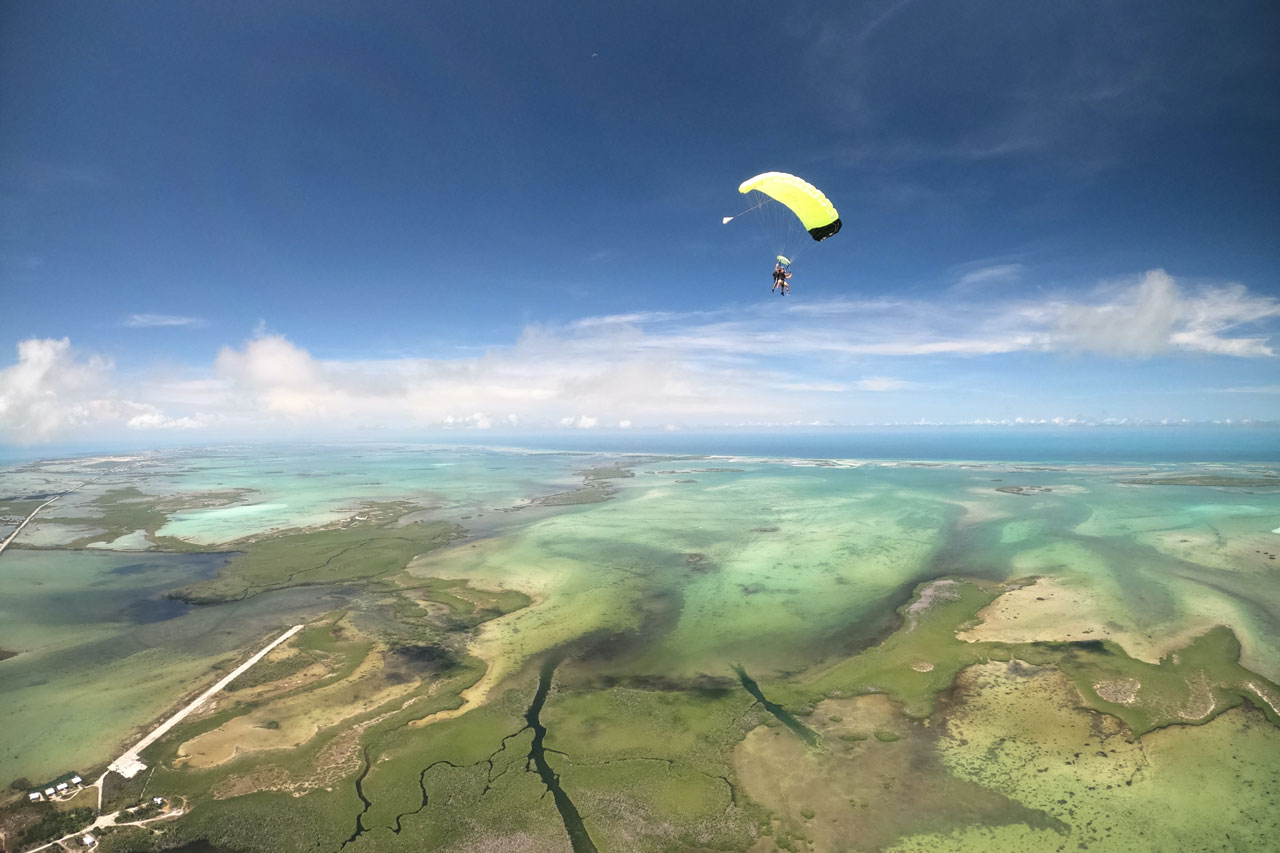 The Canopy Ride: 5 Minutes
Once your instructor deploys the parachute, you'll drift back down to Earth over the course of about 5 minutes. This is arguably the most peaceful part of the skydiving experience. You'll be shocked by how quiet everything is. You'll take this time to appreciate the breathtaking views and chat it up with your instructor.
Landing Back on Solid Ground
All great things must come to an end. During the final moments of your descent, your instructor will go over everything you need to do to ensure a gentle landing. You will either land on your bottom, or you will stand up – this will be decided by your tandem instructor. Be sure to follow their directions!
After your jump, you will receive a quick golf cart ride back to the facility where your videos will be ready and waiting for you to view! The process of selecting or purchasing videos/photos takes about 10 minutes total. At Skydive Key West, we put your media right on your phone so it can be easily shared with friends and family!
You're all done and free to go! Or you can hang out and watch more first timers take on the greatest adventure of their lives.
Have more questions? Check out our full FAQ section or contact one of our helpful team members today! Ready to fly? Book now! Blue skies.