Key West Insider Tips: Local Eats
Explore Key West
Posted by: Skydive Key West 3 months ago
Key West is known for its vibrant food scene, offering a wide array of flavors that cater to all palates. If you're planning a trip to our tropical paradise for a vacation or to visit our popular skydiving center, you'll definitely want to explore some local eats or refuel after your adrenaline-dumping skydiving adventure.
In this article, we'll uncover some Key West insider tips, must-try dishes, and what restaurants to go to in Key West that will make your dining experience unforgettable.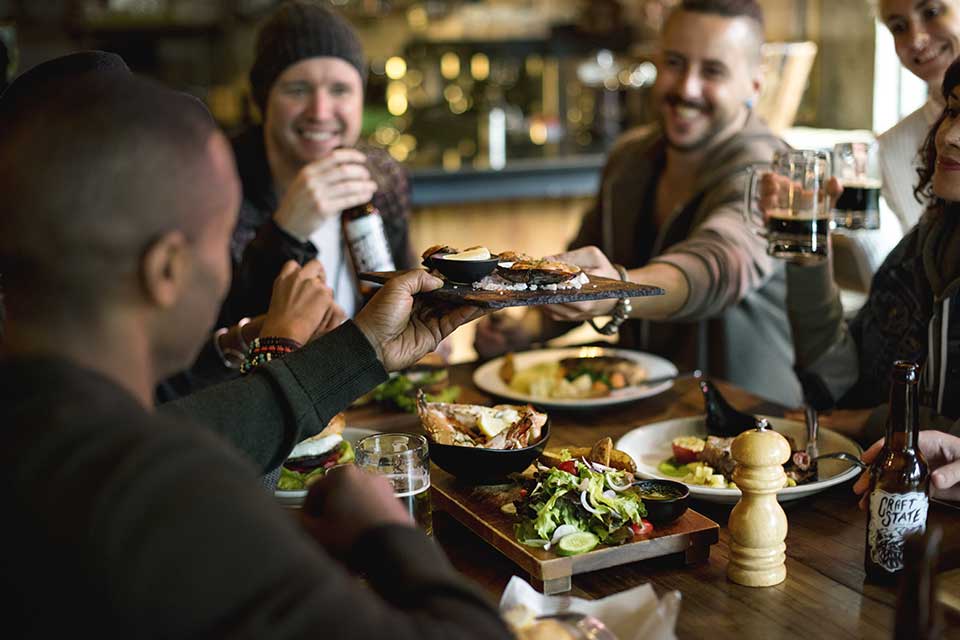 Key West Must Haves: Exploring the Food Scene
When deciding what to eat in Key West, you might be wondering "What food is Key West famous for?" For folks who don't live here, the most Key West famous food is the tangy yet refreshing, iconic dessert that originated right here in our beautiful island city, the Key Lime pie.
If you're from here, though, it's all about the seafood. Thanks to our close proximity to the ocean, Key West is known for our incredible seafood dishes. You can expect to find fresh catches of fish, lobster, shrimp and crab served in a variety of preparations. Don't forget to try the Caribbean and Cuban-inspired cuisine that has a significant influence on Key West's culinary landscape!
Another Key West staple is the conch fritter. These deep-fried balls of deliciousness are made from conch meat and are often served with a zesty dipping sauce. You can find these fried treats at various local eateries and seafood joints such as DJ's Clam Shack or The Conch Shack.
So, narrowing it down (not an easy task!), these are our favorite Key West famous foods:
Key West Pink Shrimp
Conch Fritters
Spiny Lobster
Key Lime Pie
Key West Guide: Where to Eat
Now that we know what to eat while in Key West, let's explore some restaurants that are worth a visit during your Key West adventure. Is it expensive to eat in Key West? Not necessarily – it all depends on where you go and what's on the menu.
Here are some must-eat places in Key West:
1. Garbo's Grill
If you're looking for fun places to eat in Key West, this is it! As one of the top hidden gems in Key West, Garbo's Grill has been repeatedly featured on Food Network's Diners Drive-Ins & Dives. This family-run food stand located behind Hank's Hair of the Dog Saloon may be small but it packs a ton of flavor and personality. They flaunt their own unique style, cooking up innovative takes on tacos, burgers, and burritos. They also offer poke bowls, an amazing New England lobster roll, and even a chocolate key lime pie! You can definitely expect the unexpected when visiting this quaint but mighty foodie fave.
Website: Garbo's Grill
Address: 409 Caroline St, Key West, FL
Phone: (305) 304-3004
2. El Meson de Pepe's Restaurant & Bar
If you're looking for authentic Cuban food, look no further than El Meson de Pepe's Restaurant & Bar. Located in the Old Town neighborhood of Key West, this island staple has been serving up authentic Cuban food and drinks since 1985. Not only do they specialize in Cuban Cuisine, they also celebrate with live Salsa music to match the vibrant energy of the famous sunset celebrations that take place in Mallory Square. With El Meson de Pepe's Cuban Cuisine passion and dedication to preserving the Cuban Conch Heritage, you can definitely expect top quality when enjoying their delectable eats.
Website: El Meson de Pepe
Address: 410 Wall Street, Key West, FL
Phone: (305) 395-2620
3. Lola's Bistro
Dinner done right! Lola's Bistro is an eclectic BYOB restaurant with a bohemian vibe that offers a du jour menu including fresh fish and shellfish. With a recent visit and hard-won nod from Gordon Ramsay himself, this restaurant is considered one of the best restaurants in Key West because of its unique approach and fantastic talent in the kitchen. You're really in for a spectacular show at Lola's Bistro – you'll have the opportunity to watch the head chef, Richard, create immaculate dishes from a spread of fresh ingredients in the back corner of the restaurant. You don't want to miss this opportunity!
Website: Lola's Bistro
Address: 728 Simonton St, Key West, FL
Phone: (305) 204-4457
4. La Trattoria Oceanside
La Trattoria offers gorgeous views of the Atlantic Ocean with their completely enclosed glass dining room – you can see the water from any table at this wonderful Italian restaurant. This white-tablecloth establishment offers fresh, locally-caught yellowtail snapper, hogfish and mahi-mahi. Satisfy your sophisticated side with one of their famous libations from La Trattoria's magnificent Martini menu. Known for its romantic ambiance and authentic cuisine, La Trattoria Oceanside is date-night perfect.
Website: La Trattoria Oceanside
Address: 3593 S Roosevelt Blvd, Key West, FL
Phone: (305) 295-6789
5. Duetto Pizza & Gelato
Looking for cheap eats in Key West that the locals rave about? Venture into Duetto Pizza & Gelato to get a taste of the best authentic Italian pizza, salads, and gelato in Key West. The owners pride themselves on bringing tourists and locals together with their award-winning pies and silky, creamy, homemade gelatos. They offer unique gelato flavors such as coconut, chocolate rum, and cannoli cream! Yum.
Website: Duetto Pizza & Gelato
Address: 540 Greene St, Key West, FL
Phone: (305) 848-4981
6. Smokin' Tuna Saloon
The best kept secret in Old Town is the Smokin' Tuna Saloon, Key West's premier music venue that features delicious local seafood, tasty drinks, famous T-shirts, and chill island vibes. This laid-back bar and grill offers a fantastic atmosphere and live music, making it a great spot to unwind after a long day of adventuring. Their most famous dishes are fish tacos and conch ceviche.
Website: Smokin' Tuna Saloon
Address: 4 Charles Street, Key West, FL
Phone: (305) 517-6350
7. Latitudes Restaurant
For an upscale dining experience with stunning ocean views, head to Latitudes. Located on Sunset Key, a short boat ride from Key West, this restaurant serves contemporary coastal cuisine that will leave you impressed and wanting more.
Website: Latitudes
Address: 345 Front St, Key West, FL
Phone: (305) 292-5394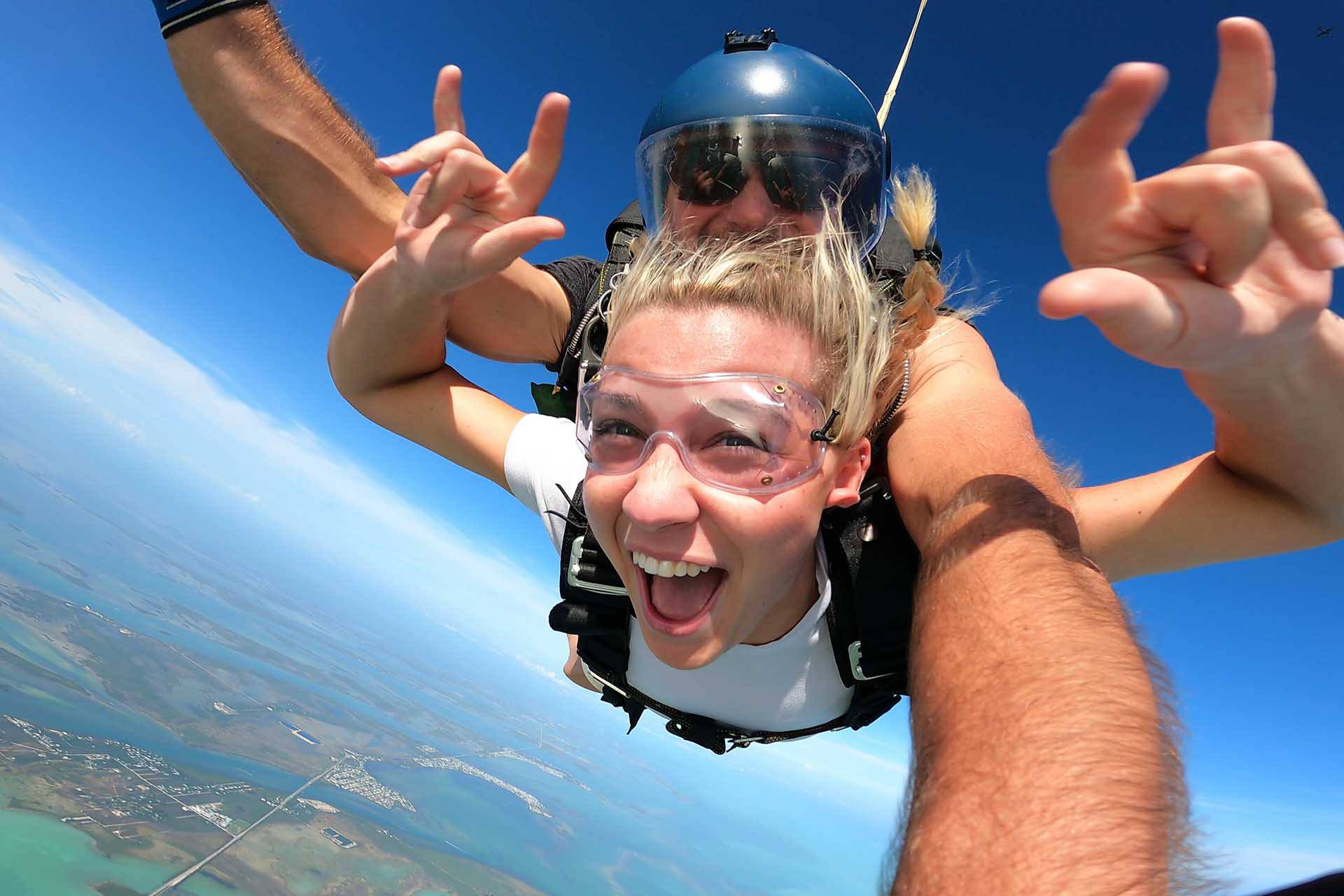 At Skydive Key West, we know how to work up an appetite!! If you're looking for something phenomenal to do before you nom out on the best eats of Key West, come and join us! Book your tandem skydive today! Want more Key West tips and tricks? Check out the Skydive Key West blog!