Florida Keys Vacation 7-Day Itinerary [with a Skydiving Adventure]
Explore Key West
Posted by: Skydive Key West 2 months ago
Whether you're honey-moonin', embarking on a much needed family vacay, or headed out on a solo adventure, a Florida Keys vacation is a must. And how many days should you spend in the Florida Keys? We think a solid week is the perfect vacation duration! To be sure you don't miss out on any essentials (like Key Largo snorkeling and SCUBA!), this Florida Keys vacation guide breaks down all the best Florida Keys activities. We'll look into the best Key West attractions, which Florida Key has the most to do, and which Key has the nicest beaches! Let's dive in!
We would like to note: The distance from the northernmost Key (Key Largo) to the southernmost (Key West) is only about 2 hours by car. We do recommend renting a car for leisure's sake, but there is public transport that stretches across the Keys via bus. It is totally up to you if you want to have a single base as your nightly accommodation, or bounce around every night!
Day 1: Arrival to Key Largo
What is the prettiest Key to visit in Florida? Key Largo, hands down. Kicking off your vacation or ending it in Largo is sure to be a hit.
You've only just arrived in the Keys, and we'll take it easy on you the first day since the coming days will be ACTION PACKED! We recommend a stroll around downtown (the Chamber of Commerce offers walking tours) and dinner at Sundowners to catch the best sunset of your life – it's literally the name of the restaurant!
Must Stay
Sunset Cove Beach Resort – free kayaks, a private beach, and water-front suites! There's a variety of hotels in Key Largo at all price points (and some unique Airbnbs).
Must Dine
Harriette's! This enchanted establishment is a blast from the past and boasts the best gourmet muffins, including three Key Lime flavors!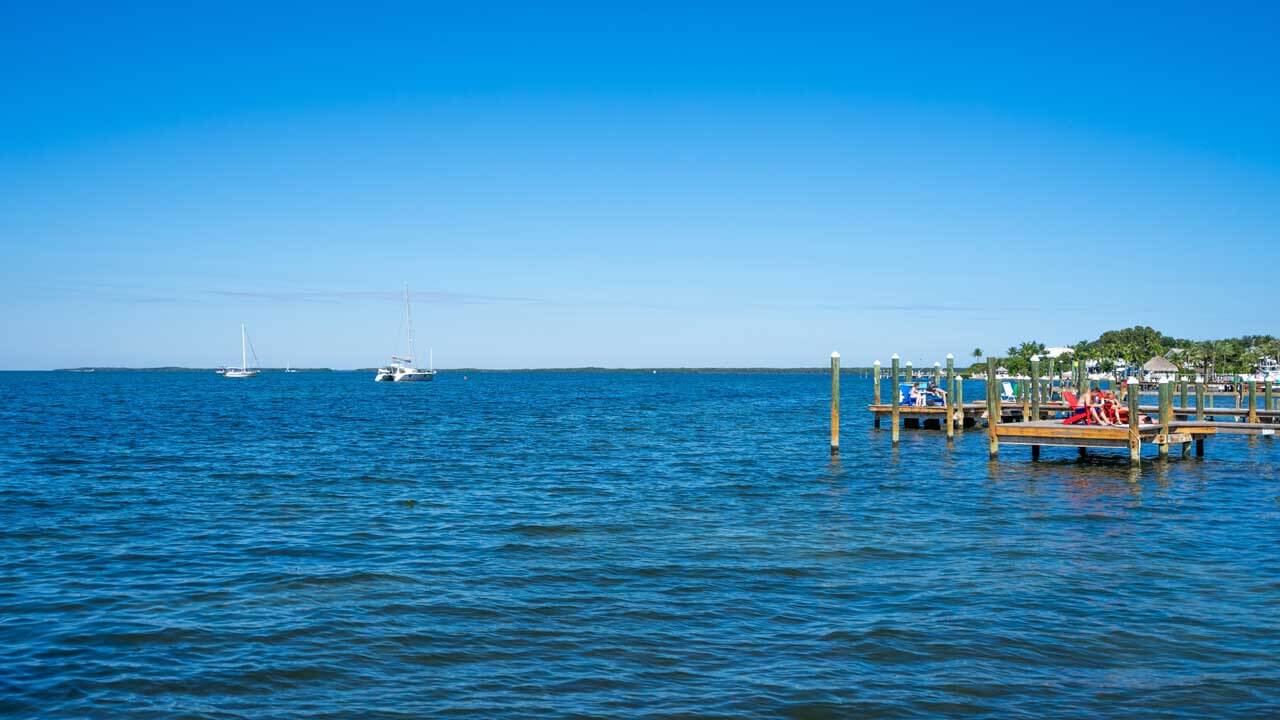 Day 2: Islamorada
Scoot your boot on down to Islamorada – this is about a 30 minute drive from Key Largo. Islamorada fishing is some of the best in the country, in fact, Islamorada is coined as the sport fishing capital of the WORLD. Fish the secret spots of the Keys with Captain Ted Wilson or take a lobster charter with DirtyBoat!
If fishing isn't your jam, that's okay! Taking a boat (or jet-ski!) to visit Alligator Lighthouse will immerse you in history and crystal clear waters.
If someone in your crew is not fond of boats, Islamorada's brewery and distillery offers an inviting outside area, liberating libations, and is pet friendly! Stay in Islamorada or head back up to Key Largo.
Must Stay
Postcard Inn flaunts a private beach, marina, and a tiki bar!
Must Dine
Twisted Shrimp for local seafood and Tacos Jalisco for authentic, homemade Mexican fare.
Day 3: Marathon
If you're looking for pillowy-soft sand to sink your little piggies into, look no further than Marathon Florida beaches. Sombrero Beach is a hidden gem on the East coast, which means … sunrises! Captain Hook's has the best snorkeling, or visit the Turtle Hospital to watch our turtletot friends work hard to live their best lives again.
Must Stay
Barnacle Bed & Breakfast to wake up with the sunrise, or Tranquility Bay Beach Resort for the perfect golden-hour sunsets.
Must Dine
Curly's Coffee and Marina for the best coffee in Marathon and The Marketplace for lunch (and shopping).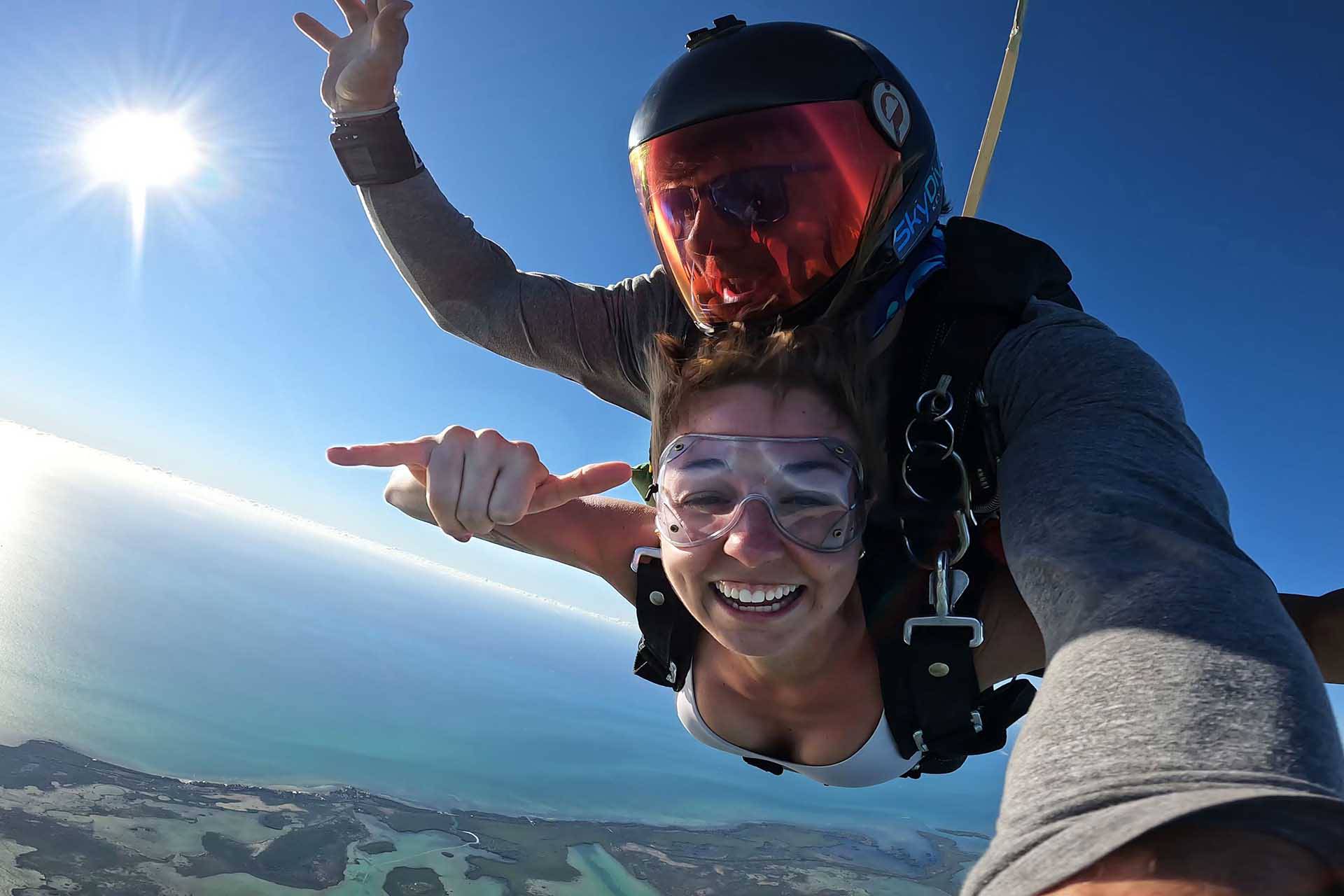 Day 4: Skydive Key West
This is an obvious one. Skydive Key West is conveniently located smack-dab between Key Largo and Key West. This means you can skydive with us on your way up or down the Keys – NO EXCUSES (except if you've been SCUBA diving on the same day)!
Many people have visited the Florida Keys and relished the teal waters and powdered sugar beaches, but how many have seen these gems from a birds-eye? From this vantage point, the Keys unveil their true magic. Beachgoers look like tiny specks, the grooves in the ocean floor spark your curiosity and make you feel like a kid again, and the breeze on your face reminds you what it means to be alive in this world!
If you're not experiencing the beauty of the Keys from two miles in the bright, blue, Florida sky … what are you doing!?
Day 5: Make Your Way to Key West
Key West has so much to offer. Since you'll be arriving here in the evening after your incredible skydive (wink, wink), we suggest taking it easy, catching the sunset, and strolling through downtown – specifically checking out Duval Street!
Must Stay
Key West Bed & Breakfast is the perfect place to rest your head, and they have a wrap-around front porch with rocking chairs.
Must Dine
Kaya Island Eats and Cuban Coffee Queen are must-visits! Blue Heaven has live music and is often described as "very Key West-y" if you're searching for the quintessential Key West experience. They also offer vegan options!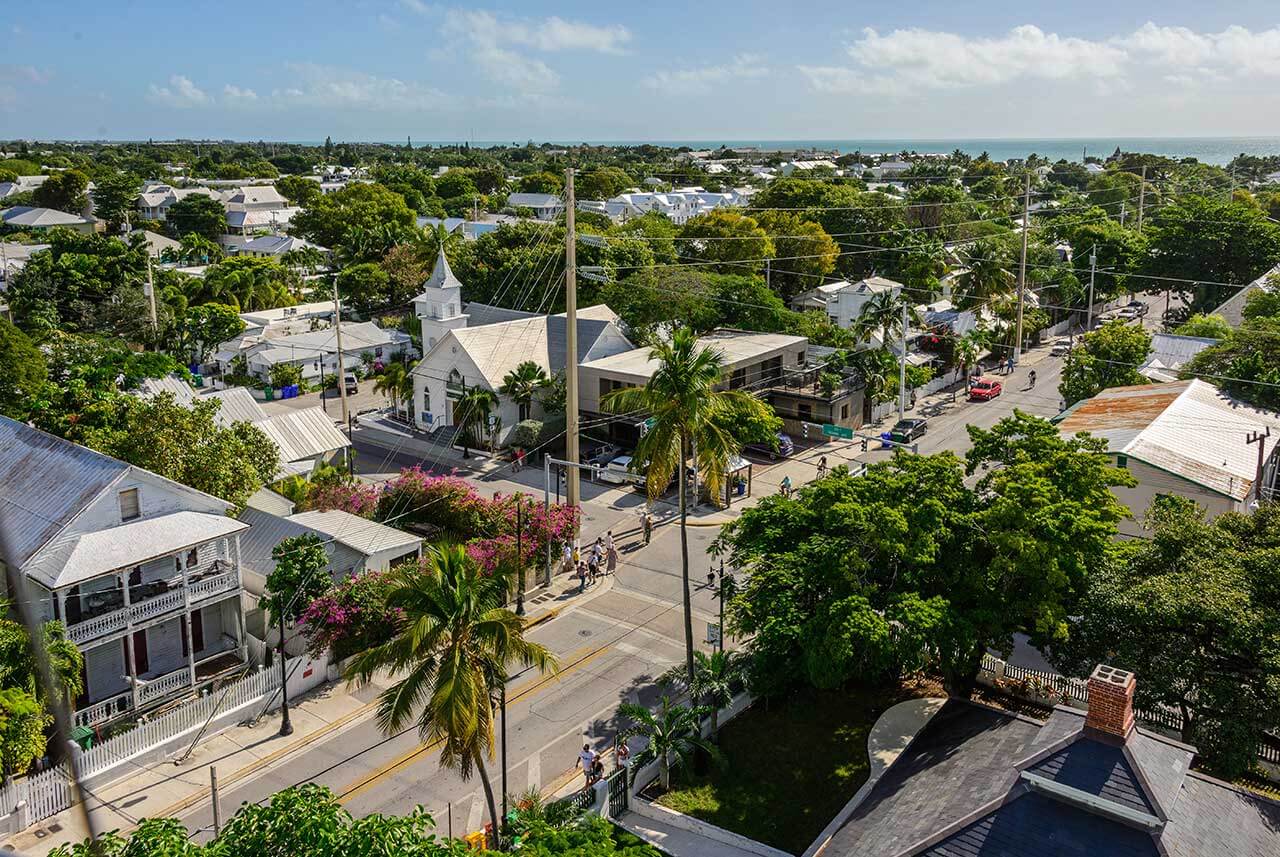 Day 6: Explore Key West
Visit the Southernmost Point of the States, the Hemingway Home and Museum, or the Audubon House and Tropical Gardens. If you're feeling a bit more adventurous, Danger Charters offers family-friendly snorkeling excursions and super romantic wine and sail sunset cruises. Maybe sailboat yoga is more your cup of tea, in which case Honest Eco Tours will provide all the serenity vibes.
Must Stay
Cabana Inn is located in Old Town Key West, where everything is walkable. We have a whole list of awesome Key West accommodation recommendations too.
Must Dine
The Key West food scene is unmatched, and we can confidently recommend a plethora of restaurants. El Siboney provides mouth-watering Cuban delights (and has the best roast pork), and The Cafe has "Fresh, Healthy, Made With Love" sammies and other eats.
Day 7: Depart
Whichever Key you're on by Day 7, start the day with gratitude. You just had a wonderful vacation to the Keys, including the most transformative experience of your life on Day 4! We know the Keys hold a unique tranquility that you can't quite find anywhere else, and we are so happy you got to visit and indulge in our little piece of paradise.
On Day 7, soak it in, say no to the extra sleep and feel the golden magic of the sunrise, eat the dang donut, dive in the emerald ocean one last time, and BE PRESENT!
We can't wait to have you, and we especially can't wait for you to skydive with us! Blue skies.