Learn How to Skydive
Skydiving
Posted by: Skydive Key West 3 years ago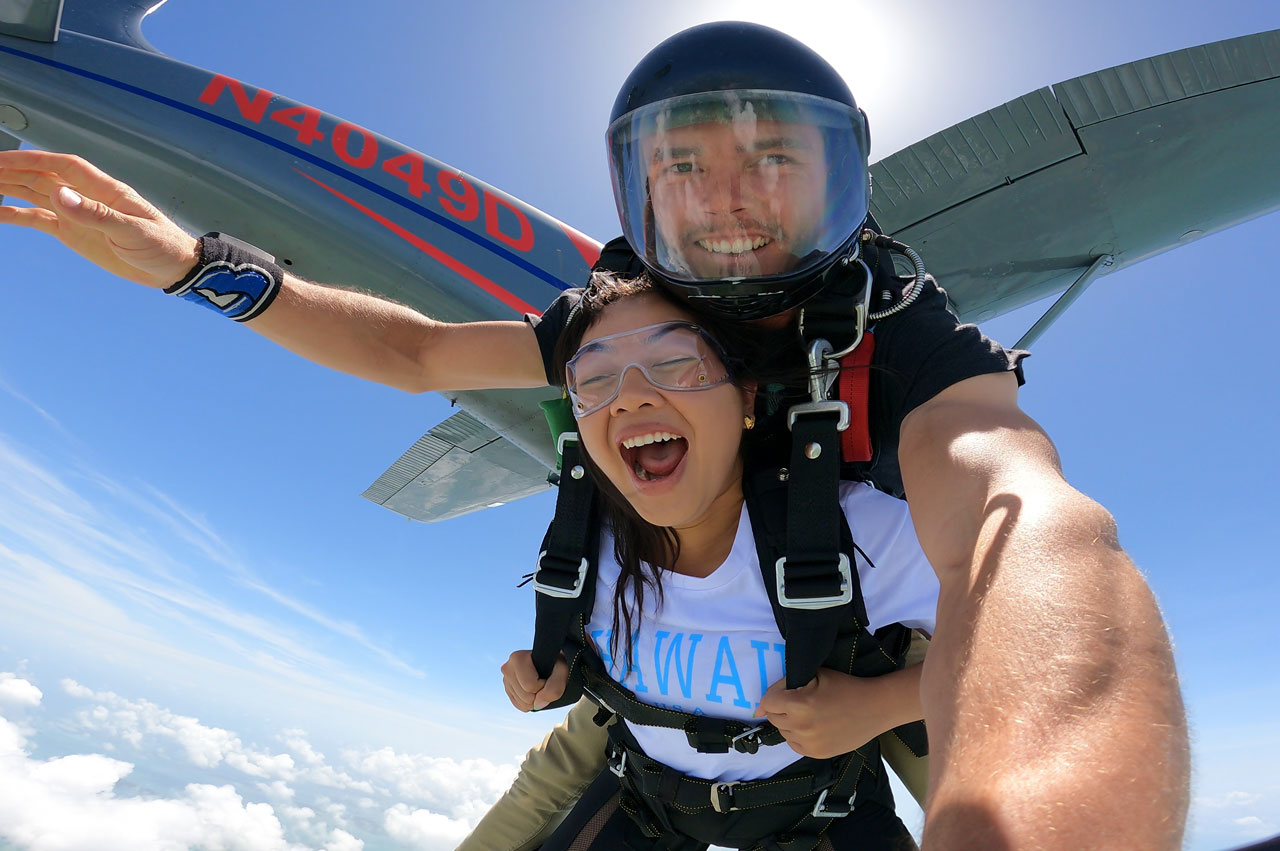 How to Become a Skydiver
Skydiving looks deceptively simple. After all, it just involves jumping out of an airplane and pulling a ripcord. The parachute then opens and the skydiver floats gently to earth for high-fives all around. However, as with anything that looks easy when done by experts, in skydiving complexity is balanced against matching amounts of training, skill, and experience.
To become a skydiver, or even to just try the sport once, varied amounts of formal training and practice are required depending on which of 3 primary instructional paths is chosen: static line, AFF, or tandem skydiving. All three have several aspects in common, and perhaps the most important is guidance from a United States Parachute Association-rated instructor at a USPA Group Member skydive center. There are also significant differences between the three as described below.
Static Line Skydiving
The static line technique allows the trainee to make a jump in one day. After 5-6 hours of Ground School, the new skydiver straps on solo skydiving gear and boards a plane for a climb to around 4,000 feet. With guidance from a jumpmaster/instructor, the trainee moves to the door and exits. As the jumper falls away from the aircraft, a strap (the static line) connected to the parachute pulls the chute from the container and causes it to deploy. Usually, another instructor on the ground communicates with the jumper via a radio in the skydive helmet, guiding the steering and landing of the parachute. Freefall time is minimal, limited by the length of the static line.
Accelerated Freefall (AFF Skydiving)
Since the late 1980s, static line skydiving has largely been replaced by the Accelerated Freefall training method. AFF allows the student to experience freefall from standard skydiving altitude after a comprehensive 6-hour ground school covering skydiving basics, aircraft safety, freefall body positioning, landing techniques, and emergency procedures. On the first AFF jump, the trainee exits the aircraft with two USPA AFF-rated instructors who hold onto handles on the trainee's harness and assist during freefall then signal for chute opening at about 5,500 feet. A ground instructor guides the canopy flight and landing by radio. After 8 successful AFF training jumps, the new skydiver is cleared for supervised solo jumping.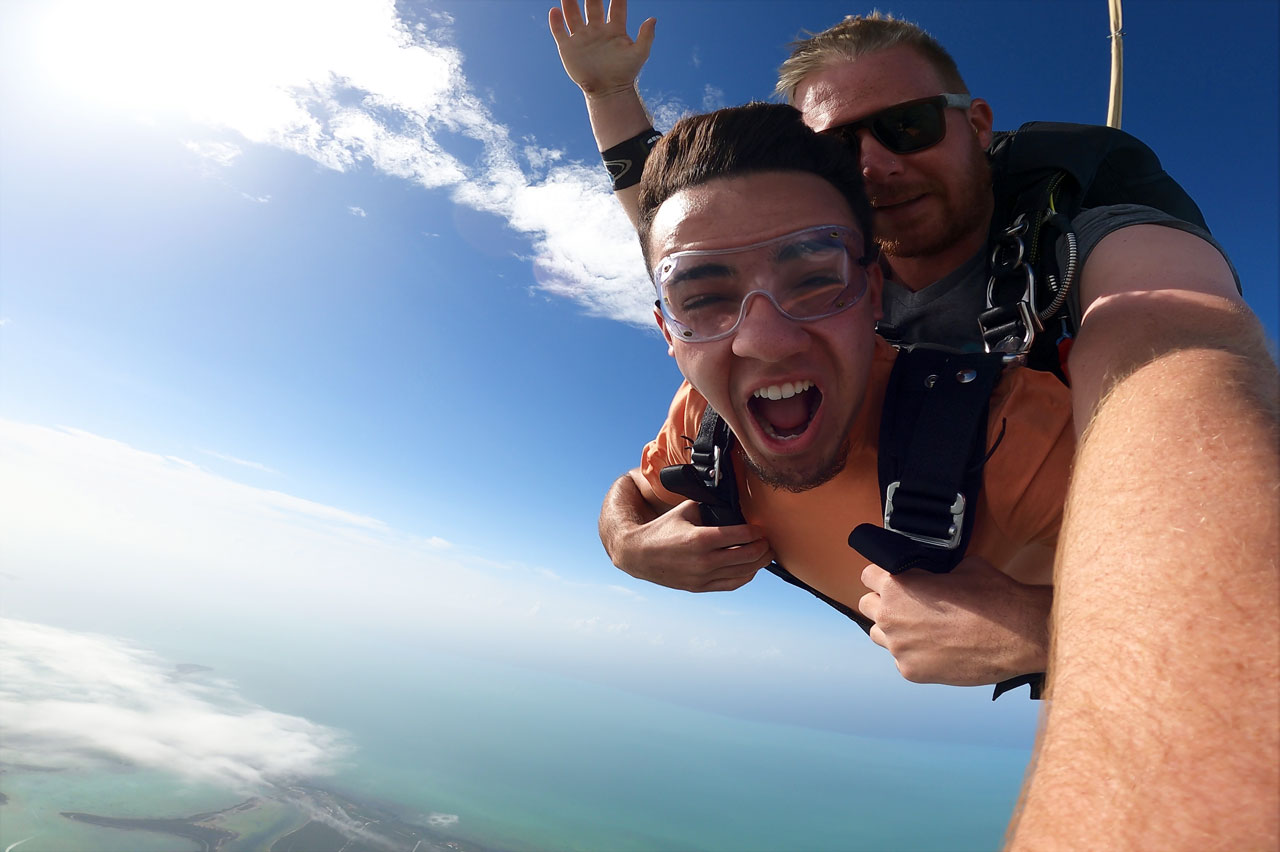 Tandem Skydiving
Tandem skydiving is used as an initial training method and is also the most common introduction to the sport for non-skydivers who would like to experience a jump. Popular because it requires only 20-40 minutes of ground training and is relatively inexpensive, tandem skydiving allows for 30-40 seconds of freefall time with the student securely harnessed to a USPA tandem-certified instructor. A large main parachute is used to support the weight of two passengers, and the tandem instructor controls all phases of the jump from exit through freefall, canopy opening, and landing. Tandem skydiving has proven to be a very safe, easy, and exciting way to enjoy the exhilaration and beauty of skydiving.
The Tandem Skydiving Specialists
Skydive Key West, the tandem skydiving specialists, has been offering safe, thrilling skydiving experiences to first-time jumpers for over two decades. Our tandem instructors have the highest USPA qualifications and thousands of jumps in their log books, our tandem parachute rigs are top-of-the-line, and our spectacular Florida Keys dropzone is rated among the world's top 10 most scenic places to skydive.
The ultimate Key West skydiving adventure is waiting at Skydive Key West, and our 5-star customer service makes the entire process from reservation to jump day very convenient and lots of fun. Contact us at 305-396-8806 or email [email protected] to go tandem skydiving in tropical paradise.