Is Tipping Common in Skydiving?
Skydiving
Posted by: Skydive Key West 7 months ago
You've made one of the biggest decisions of your life – you're going to make a tandem skydive!! After a lot of research and consideration, YouTube video watching, and pros and cons lists, you made the commitment. Yes!!!! But wait, do you tip skydiving instructors?
Possibly the only thing more stressful than jumping out of an airplane mid-flight is talking about money. ::grimace:: There are a lot of things you won't intuitively know about skydiving, and whether or not you should tip your skydiving instructor is probably one of them. And how much to tip skydiving instructors is likely another!
Let's set the record straight on if you are supposed to tip a skydiving instructor. At the end of the day, it's up to you! But here's some guidance to help you decide if your instructor earned a little extra love.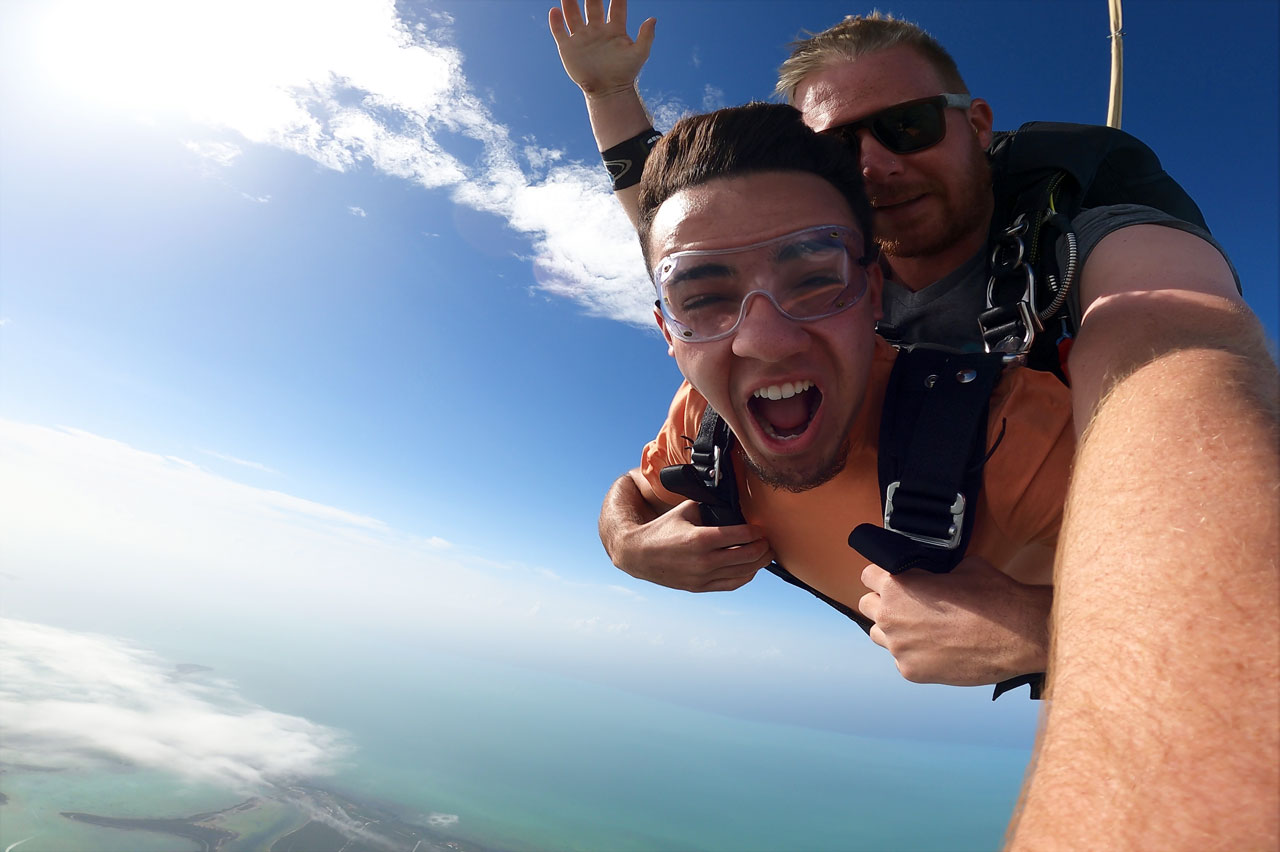 Should I Tip My Instructor?
Do you tip your server? Your hairstylist? Your massage therapist? Not only is your skydiving instructor part of the service industry, they are also literally taking your life in their hands!
If your initial research empowered you to trust someone enough to let them take you skydiving, then you probably already know that instructors put a lot of work into having the privilege to do so! They work hard to make your skydive the best experience of your life, from the moment you arrive to the time you leave. This is a huge day for you! Even if it's their eighth jump of the day, they'll make you feel like the only person they've jumped with. They want you to be comfortable and confident, knowing you're in good hands, and super excited. They're fully committed to you.
Like other folks in the service industry, instructors know that a tip is never a given; it has to be earned. Simply getting you to the ground safe and sound isn't enough – that's what we pay them for – but should you feel that they've gone above and beyond to make your experience out-of-this-world awesome, you are welcome to offer a tip. 
The same goes for your videographer! Shooting skydiving videos is most definitely an art they've worked hard to perfect so that you can enjoy reliving your amazing experience for years to come. If you loved the video experience (and your phenomenal video), you're welcome to tip them too.
How Much Should I Tip?
Onto the next question: what is a good tip for skydiving? Like the initial decision to tip or not to tip, the amount is also completely up to you. There are a lot of factors that come into how much you should tip someone.
Any bit of gratitude an instructor gets is received with great appreciation. Knowing that you enjoyed your experience is what's most important. So in that respect, whatever you are able to give will get the message across.
It also comes down to how much you enjoyed your time with your instructor. You'll obviously be inclined to tip more if your instructor gave you an incredible experience, rather than if you felt like they were only interested in getting from point A to point B. Connection, comfort, enthusiasm, and safety all come into play when it comes to your relationship with your instructor. Keep that in mind when you are deciding how much to tip.
OK, Type A peeps, we hear you: "enough words already, just give us a number!" A good rule of thumb when it comes to tipping your instructor is to go for around 20% of your total cost. A typical tip for a skydiving instructor in Key West is $20 to $25.
Do we pay our instructors well? Of course. But they all get the same rate. You can reward them with an extra little bonus if their passion and personality rock your world!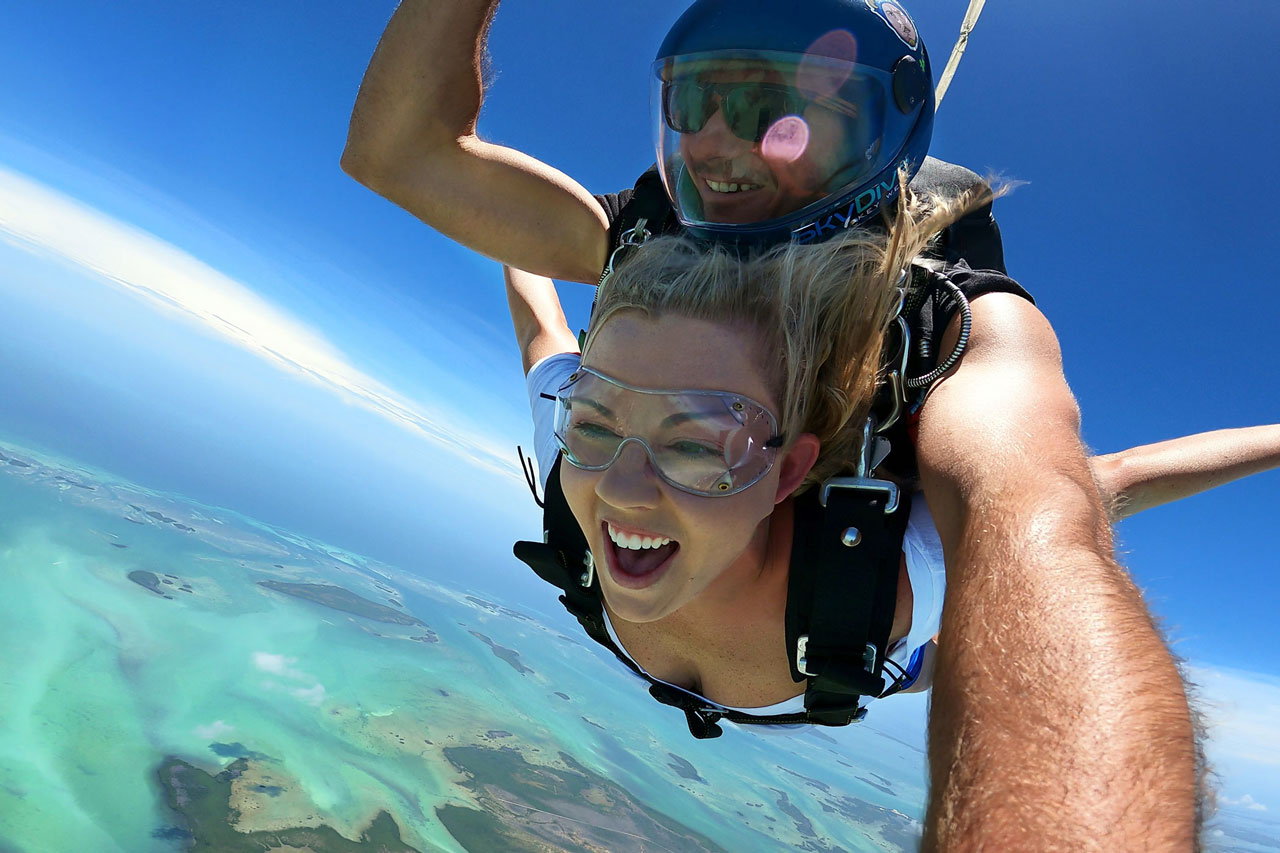 Other Ways To Show Some Love
If tipping just isn't in your budget, that's OK! We want you to skydive regardless. (You won't get the stink eye, we promise.) Our instructors do what they do because they love it. And knowing that they can give you the time of your life is why they show up every day. Bringing Andrew Jackson along on your skydive isn't the only way to express gratitude.
In this world of Yelp and Google, leaving an online review can go a long way. Taking the time to write about how much you enjoyed your jump with your instructor will bring more business their way. More jumping means more money. In a way, it's a tip that keeps on giving!
Another way to show your appreciation is to just tell them! Being a tandem instructor is hard work, and they do it because they have a passion for sharing skydiving with others. Letting your instructor know how they impacted you will make their day. A handwritten note is a great way to tell them what your experience with them meant to you!
What If A Tip Wasn't Earned?
If you aren't happy with the time you spent with us, the best tip you can share is honest feedback. Your experience matters to us. If we fell short of your expectations, we want to know what happened so we can make sure it never happens again. Each and every skydive should leave you with good memories to last a lifetime. If you have an idea of how we can improve, please let us know!
Are you ready for us wow you? Book your Key West skydive today!