Love Is In The Air – Skydiving at Skydive Key West: The Ultimate Couples Experience
Skydiving
Posted by: Skydive Key West 6 months ago
Key West is a famously romantic island at the southernmost point of the Florida Keys – gorgeous sunsets, warm sea breezes, shimmering water views in every direction. Our little island has become a sought-after destination for couples of all ages who are looking to escape the chaos and responsibilities of everyday life, trade in their heels for flip flops, set their out-of-office notifications, and spend some precious time reconnecting with one another. All this love in the air makes it easy to imagine candlelit dinners and aimless walks by the ocean – and there's plenty of that to be found. So you might be surprised to learn that one of the most popular couples activities in the Keys is one where love is in the air…literally. Welcome to the most unexpectedly romantic – and guaranteed exhilarating – experiences there is: skydiving.
At Skydive Key West we have hundreds of couples come through our doors every year to share a once-in-a-lifetime adventure together in the sky. Some are in their early 20s; others are in their golden years. Some are here to celebrate a first anniversary while others are marking 30 years. A handful are on an epic third date. But no matter how long they've been together, they're here to share an experience unlike anything else on the planet.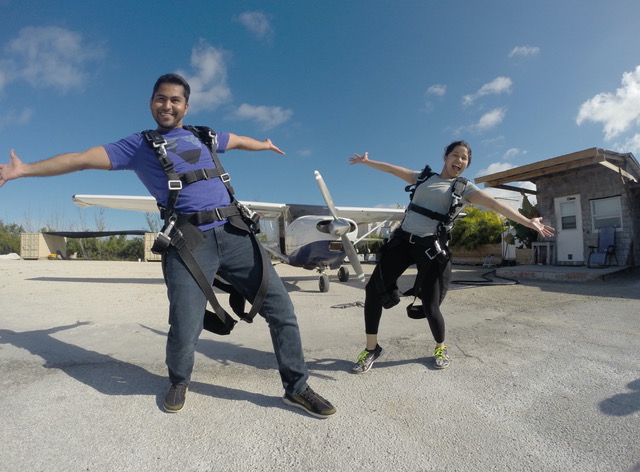 What makes skydiving here at Skydive Key West a perfect couples activity? It all starts the moment you walk in. After getting checked in and signing your waivers, you're invited to walk out to our outdoor viewing area where you'll stay cool and shaded under our custom-built tiki hut – classic architecture of the Florida Keys (and a great photo opp!). You and your partner will be able to watch our planes take off and land, and see our super friendly staff in action. But you won't be watching too long – at Skydive Key West we pride ourselves on short wait times. Less than 15 minutes after your check-in time you'll be harnessed up by your instructors, taken through a brief and informative training session, and then you'll walk out to your airplane – which you and your partner will have all to yourselves! (Along with your instructors and pilot, of course.)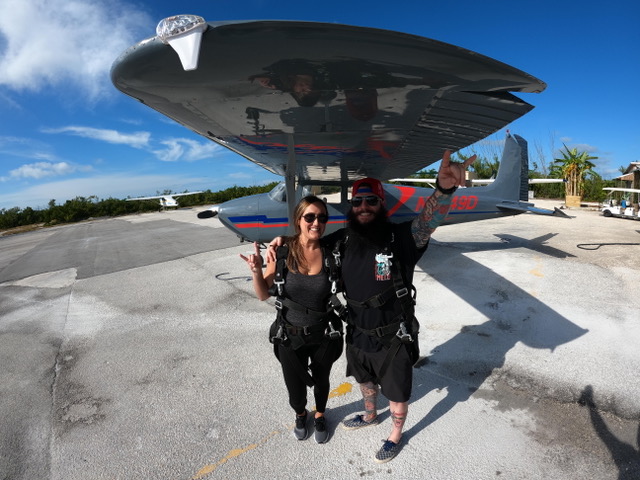 From there, the two of you will enjoy the most scenic 15-minute flight in the Keys. You'll be close enough to one another to hold hands as you take in the breathtaking views. After your stunning ascent, the door of the plane will open and it'll be time to jump! Trust us, there's nothing like the rush of traveling at 120mph through the air, feeling the parachute open above you, then beginning your floating descent back towards the earth while watching your partner do the same in the distance. Though you won't be close enough to communicate while you're in the air, you'll meet again on the ground where you can celebrate together in our landing area. You're both safely back after flying from 10,000 feet in the sky!
In addition to the video of your jump, we'll capture footage of you and your partner before you get in the plane and of the two of you together after you land. So you'll be able to relive your incredible shared experience – and dazzle your friends – for years to come.
And if you're feeling ready to make the leap that promises a lifetime, Skydive Key West is the site of multiple engagement jumps every year. We help you coordinate the entire experience so that you're on the ground with the ring in hand after you jump, and your partner glides into our landing area over our custom Will You Marry Me? banner. It's the best way to add a little extra adrenaline to the moment you pop the question.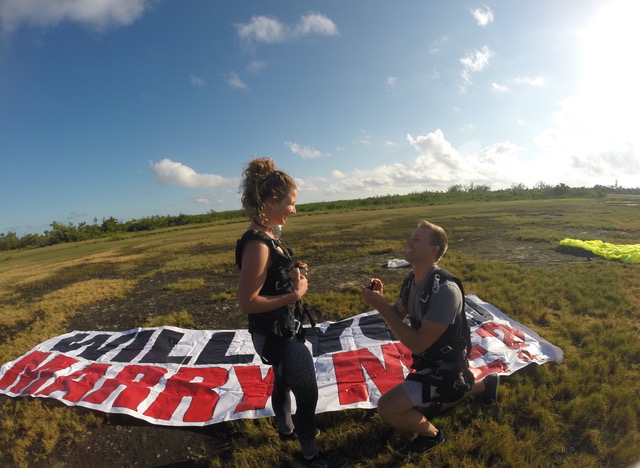 So, if you're searching for the perfect combination of romance and adventure, look no further than Skydive Key West. Book your skydive with us today!